extra muros
10.09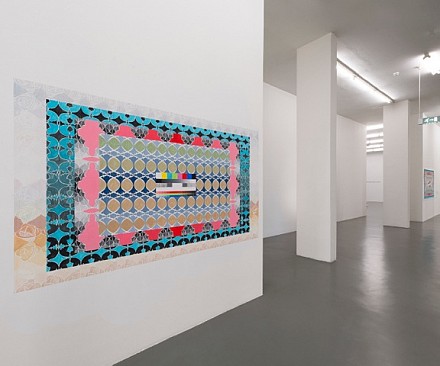 Art In The Age of … Asymmetrical Warfare
Van Eyck participant Navine G. Khan-Dossos takes part in the Art In The Age of… Asymmetrical Warfare at Witte de With, Rotterdam. 
Opening and Artist Talks with among others Navine G. Khan-Dossos: 10 September 2015, 16:00
 Art In The Age Of…Asymmetrical Warfare, the third and final iteration of Witte de With's year-long exhibition series Art In The Age Of…, considers the irregular, and often uneven nature of the hybrid battlefield. As always, war is ever-present, however, its theater has now extended from the so-called real to the virtual. While hard power is still asserted face-to-face and hand- to-hand, remotely controlled weaponry and other means of telecommunicated violence are broadcast and delivered digitally through cyber attacks, and via social media propaganda platforms. Not surprisingly, these new channels have created their own forms of representation in which morale and information have become equal to, or are greater than, traditional military superiority. Instead of simply producing images of war, a new war of images is being fought and sold. As such, Art In The Age Of…Asymmetrical Warfare asks the question: What role do artists play when they slip into these networks and try to reveal the engines and effects of contemporary conflict?
Valences between presentations develop various leitmotifs including subjects such as diplomacy, media, extra-judicial killing, computation and coding, military and guerrilla tactics, and of course, weaponry. In addition to the artworks, several artifacts will join the exhibition including a real-time global cyber attack monitor as well as an animated map of the international arms trade and nuclear detonations.
As the last iteration in the three part series, this exhibition carries forward three artistic positions from the preceding show, Art In The Age Of…Planetary Computation. Works by Trevor Paglen and Navine G. Khan-Dossos remain on view, whilst artist John Gerrard presents a new duo of simulations. This slippage recontextualises the works to explore the interrelation of computation and conflict.
With: Abbas Akhavan, Sven Augustijnen, James Bridle, Broomberg & Chanarin, Crass, Claire Evans, John Gerrard, Terence Gower, Isao Hashimoto, Glenn Kaino, Navine G. Khan-Dossos, Trevor Paglen with Jacob Appelbaum, Mohammad Salemy, Susan Schuppli & Tom Tlalim, Nida Sinnokrot, Thomson & Craighead, and José Antonio Vega Macotela.
Art In The Age Of…Asymmetrical Warfare
11 September 2015 – 3 January 2016
Opening and Artist Talks: 10 September 2015, 16:00
Witte de With, Rotterdam