Event
20.01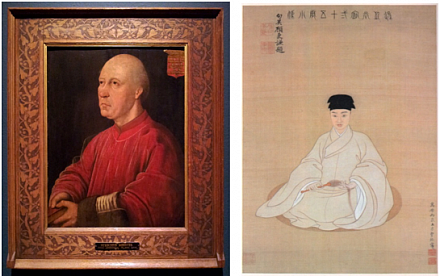 BACA Projects 2016
You are kindly invited by the Van Eyck and the Bonnefantenmuseum to join -  within the framework of the BACA projects  - a dinner and a talk between artist Hao Liang (1983, Chengdu, China), curator Hu Fang (1970, Zhejiang, China), Stijn Huijts (director Bonnefantenmuseum) and Huib Haye van der Werf (Van Eyck head of the artistic programme) on Wednesday 20 January, at 19:00 at the Van Eyck.
Under the moniker BACA Projects several events will be organized  by  both the Van Eyck en het Bonnefantenmuseum leading up to the awards ceremony of the Bonnefanten Award for Contemporary Art (BACA) 2016 in September, highlighting current developments in Chinese contemporary art.
The talk during this dinner-event on 20 January, will focus on the similarities and differences between Western and Eastern portraiture. The Portret van Evert Zoudenbalch (ca. 1500-1510), which impressed artist Hao Liang during his visit of the Bonnefantenmuseum and in which he saw a resemblance with the Chinese artwork Portrait of Wang Shimin (ca. 1564 – 1647) will be the main focus. 
You are most welcome to join us for dinner and meet artist Hao Liang en curator Hu Fang:
At 18:00 we start with a drink, followed by the dinner and talk at 19:00.
The cost for the dinner is €10,- (excluding drinks), which can be paid on the day itself.
Registration is requested at registration@janvaneyck.nl
Previously this year artist Liu Ding (1976, Changzhou Jiansu) and curator Carol Yinghua Lu (1977, Chaozhou Guangdong) stayed in Maastricht from 4 to 17 July 2015 at the invitation of the Bonnefantenmuseum and the Van Eyck. They conducted research, met several Van Eyck participants, produced a room-filling installation at the Bonnefantenmuseum and discussed their work with the public during a dinner at the Van Eyck.
On 29 September 2016 the Bonnefanten Award for Contemporary Art (BACA) 2016 will be awarded to a Chinese artist with an exceptional work and artistic position.
With the kind support of the Mondriaan Fund and the Ministery of Foreign Affairs.