Talk
18.05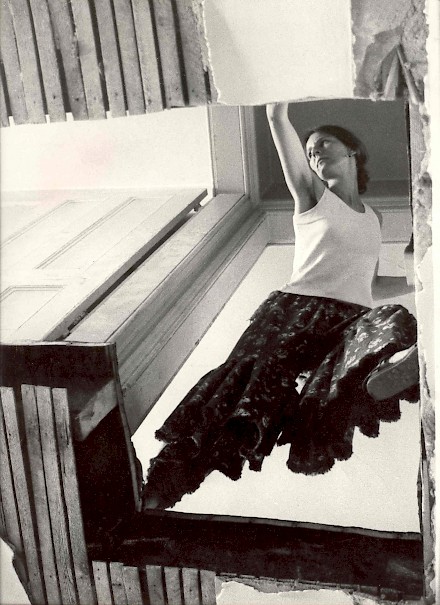 Carol Goodden
The Van Eyck welcomes Carol Goodden to the academy on the 18th of May 2017. Goodden, a former dancer with the Trisha Brown Dance Company, artist and former partner of artist Gordon Matta-Clark, will give a workshop, limited to participants of the Van Eyck, and a public lecture.
The lecture will take the form of a dialogue between the art collector Harold Berg and Carol Goodden about her own work and the projects of Gordon Matta-Clark. The lecture (in English) will begin at 8 pm in the auditorium of the Van Eyck.
The lecture takes place in the context of the exhibition Cut, Split & Eat at Kasteel Wijlre Estate, which relates to one of the greatest legends of the 1970s avant-garde, Gordon Matta-Clark (1943-1978). The exhibition shows a special selection of many previously unseen collages, personal objects, photographs, drawings, and video works, next to a reconstruction of Matta-Clark's culinary project FOOD, including dinners and lectures. Cut, Split & Eat is on show until the 2nd of July.
All welcome to join!
Free entry
TIP:
On 19 May, a dinner lecture with Carol Goodden takes place at Kasteel Wijlre estate. From 1971 to 1974, together with Carol Goodden and Tina Girouard, Gordon Matta-Clark ran FOOD, a restaurant and artistic project that quickly developed into a creative meeting place for the New York art scene. In the reconstruction of FOOD in the estate's Coach House, Carol Goodden shares her memories of this culinary and artistic project and talks about the vibrant art scene of seventies New York. A three-course dinner inspired by the FOOD menu will be served at the Coach House. 
About the Kasteel Wijlre Estate
Kasteel Wijlre is an estate dedicated to culture and landscape. The estate presents exhibitions, projects, events and educational activities, which take place in the contemporary art pavilion Hedge House, the historic Coach House and the Gardens.