Event
15.04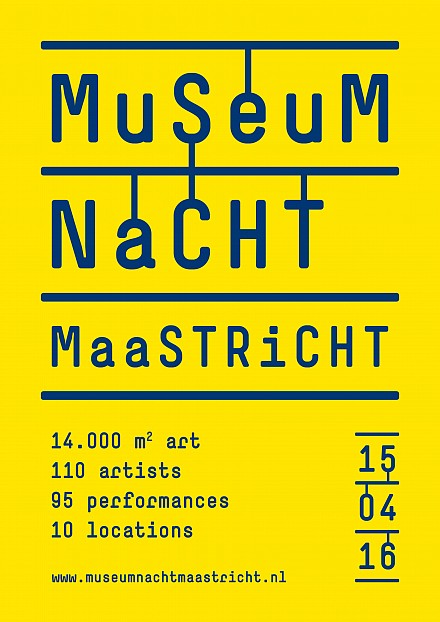 1st Museum Night Maastricht
15 APRIL 2016: One night, ten locations: it's the first Museumnacht Maastricht and the Van Eyck is 1 of the 10 venues!
From valuable historical artefacts and striking archaeological finds to eccentric contemporary works of art and cutting-edge video art: you can expect all this and more during the first ever Museumnacht (Museum Night) Maastricht. The ten participating venues will open their doors for the evening of Friday 15 April, from 20:00 to midnight. Besides their own exhibitions, there will be a special programme of performances, workshops, artists' talks, exclusive tours, previews, drinks, and music. And with the free hop-on-hop-off bus service, no-one need to miss a thing. The first edition of Museumnacht Maastricht will be concluded in style with an after-party held at Ipanema (the café at the Bonnefantenmuseum) from midnight to 3:00 AM.
BRING YOUR OWN BEAMER AT THE VAN EYCK
On the night of 15th of April 2016 artists and designers bring their own projector and show their work on the walls of the Van Eyck during the first Maastricht edition of Bring Your Own Beamer. The Van Eyck organizes this one-night-art event in collaboration with Video Power – the platform that fuels the creative production of moving images in the Euregion – presenting this worldwide phenomenon in the framework of the first Museum night held in the city of Maastricht. Expect audiovisual bravado, visual experiments, quirky animations, remarkable home videos, cutting edge video art and digital graphics.
Do you want to join? Our Open Call opens 1st of March: more info soon!
TICKETS
Tickets offer access to all ten locations and cost €10 or €12.50 including admission to the after-party. Students showing a valid student ID card pay just €7.50 or €10 including admission to the after-party. Tickets to the after-party at Ipanema (the café at the Bonnefantenmuseum) are only available in combination with a ticket to Museumnacht Maastricht.
Tickets are from 1 March on sale online, click here.
For more information and highlights: www.museumnachtmaastricht.nl
ART VENUES: DOMINICANEN BOOKSTORE – BONNEFANTEN MUSEUM – BUREAU EUROPA – B32 – CENTRE CÉRAMIQUE – NATUURHISTORISCH MUSEUM –DRUKKUNSTMUSEUM –MARRES – MUSEUM AAN HET VRIJTHOF – VAN EYCK
Made possible by: Stichting Elisabeth Strouven, Stichting Kanunnik Salden/Nieuwenhof and Museumvereniging Nederland. Supported by: Team Notarissen, Zuiderlicht, NLcom, Impreso, Jules & You and VVV/Maastricht Marketing