Performance
21.02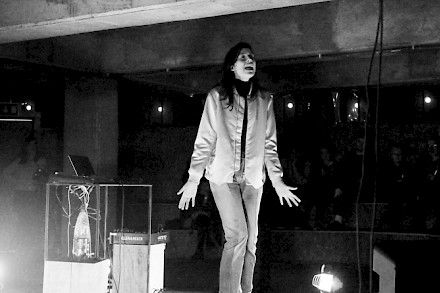 Show personality, not personal items
On Tuesday 21 February at 19:00 we welcome artist Nora Turato to Van Eyck for the performance Show personality, not personal items. 
In her spoken word performances Nora Turato invokes precise observations of everyday life. By the artistically molded speaking of her texts, by rhythm and melody of her speech Nora Turato accentuates the urgency of her sociocultural themes, echoing the here and now. In doing so her performances resemble a tour de force, pressing, provocative and right on target. 


Nora Turato's performance is part of her first institutional solo exhibition Your Shipment Has Been Dispatched, now on show in Aachen, Germany at NAK (Neuer Aachener Kunstverein).
Nora Turato was born in Zagreb in 1991, studied at the Gerrit Rietveld Academie Amsterdam and at Werkplaats Typografie Arnhem. Currently Nora Turato is a resident at the Rijksakademie in Amsterdam. 
On the exhibition Your Shipment Has Been Dispatched at NAK:
The exhibition opens with several sound pieces, taking the place of the artist when she is not present. Visitors are welcome to sit on Grana Padano cheese wheels, placed throughout the room that mark the position of directional speakers. This allows the recorded performance to be only heard from certain areas of the exhibition. Another room holds a video installation, showcasing a 20-minute typography-heavy loop of Turato's work. Throughout the exhibition posters are hung, containing simple yet often contradicting messages. These proclamations can further be found around the city of Aachen and several online blogs, expanding the exhibition far beyond the physical space of the Neuer Aachener Kunstverein. During the course of the exhibition Turato will tour different institutions around Germany, the Netherlands and Belgium.
NAK - Neuer Aachener Kunstverein is one of the youngest institutions of its kind in Germany; a private non-profit association for contemporary art in the tradition of the German Kunstverein model with over 500 members. NAK is a core institution of the local art scene, as well as internationally recognized as an innovative platform for contemporary art and its discourse.
All welcome in the Van Eyck for the performance Show personality, not personal items
21.02 at 19.00
Free entrance

The exhibition Your Shipment Has Been Dispatched is on show at NAK in Aachen until 26.03.2017
www.neueraachenerkunstverein.de
photo by Cargo Collection / Ariel 2.0; Performance at Bold Tendencies, London, 2015