Event
07.04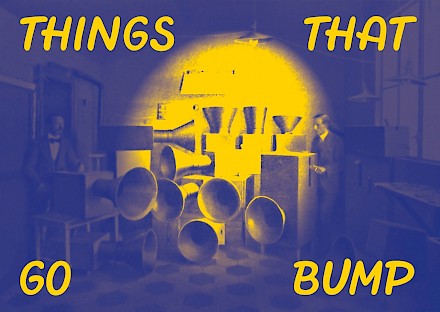 Things that go Bump
THINGS THAT GO BUMP
Museum Night Maastricht in the Van Eyck
An evening full of art/music performances and jam sessions, in a programme hosted by the artist Rod Summers.
7 April 2017
20:00 – 01:00
On Museum Night, the Van Eyck will be immersed for a whole evening in noises, voices, musical instruments, images, and poetry. Artists and musicians, professionals and students alike, will give full rein to their talents on the open stage. 
MAKE SOME NOISE
Anyone can take part in Things That Go Bump. Visitors to our museum night are invited to make their own contributions to an impromptu sonic and visual landscape. Come along with your smartphone full of music, SynthMaster or Ableton app, your keyboard or whatever noisemaker you have and jam along on our museum night in the Van Eyck. At 0:30 all sounds and noises will come together in The Grand Jam.
PROGRAMME
20:00
Ken Montgomery (US)
HoPeLo
Live demonstration of "Something is Happening" technologies, aka kitchen table noise and postcard production, JUST using the available resources of the moment
www.atmotw.com
Laura Puska (FI)
Where the ways were
A performance by Finnish artist Laura Puska streamed via Skype from Iran. Puska is currently working in the art studio of Bon Gah in Keresht on her long-term work titled as the Living Room Project. It is a series of site-specific installations taking place in three locations; Finland (December 2016), Iran (current) and UK (coming). By placing herself in a foreign environment, works are created in a dialogue and as a reaction to the surroundings. The project observes the relationship between the individual and the surroundings, while it simultaneously aims to define the identities of both elements. The performance is a part of the second edition of the Living Room Project, and it is formed from materials collected during the working period in Iran
http://www.puska.me/

20:30
Martin La Roche (CL)
Four millions four, four Comas
Martin La Roche and Rod Summers work together on a sound poem piece using an audio sampler
http://www.martinfreiherrvonlaroche.com
21:00
Vittore Baroni (IT)
Bumpity bumpity bump by Lieutenant Murnau
In the underground tradition of collective identities that goes from Monty Cantsin to Luther Blissett and Anonymous, Lieutenant Murnau is a "multiple name" adopted by Vittore Baroni and other international mail artists to produce collage audio works "without playing a single note". The first cassette of this ghost band, Meet Lt. Murnau, was published in 1980 in the Netherlands by Rod Summers' V.E.C. editions. The project ended in 1984, but occasionally the "sound vampire" comes out of the tomb for new actions of radical turntablism, playing "prepared records" and other bizarre devices. In this case, Lt. Murnau performs a live cut-up of songs that go "Bumpity Bump" - from Lady Bump by Penny McLean to Ain't Gonna Bump No More (With No Big Fat Woman) by Joe Tex - but also "Boom Boody-Boom" (as in Peter Sellers & Sophia Loren's Goodness Gracious Me)
https://en.wikipedia.org/wiki/Vittore_Baroni
Enzo Minarelli (IT)
Romanzi nelle i, polypoetical work n.11 for Abraham Abulafia
A performance inspired by the cabbala of rabbi Abulafia (XIII Century) and sound poetry. Only voice, permutation and Enzo's triadic respiration
http://www.recitalprogram.com/romanzi-nelle-i/
21:30
Mike Kramer (AUS/NL)
Mike Kramer meets Core Shift internal affairs
Sound artist Mike Kramer will present new audio work especially composed for the Museum Night. His work is a quadrophonic piece. The sounds used for the composition are derived from electromagnetic fields embedded in the architectural structure and various electronic devices, which are all present at the Van Eyck
http://www.h-ear.org   https://mikekramer.bandcamp.com/  https://coreshift.bandcamp.com/
22:00
John & Cathy Bennett (US)
LEG MIST
Collaborative performance poetry by C. Mehrl Bennett & John M. Bennett
http://www.johnmbennett.net
22:30
Timo van Luijk (BE)
Modular Bells
Fully acoustic sound performance with assembled metal tubes and objects mounted to 2 wooden handles held in each hand. Dynamic sound experience ranging from soft chime whispers to clattering cacophony​
https://lasciedoree.be
Sara Bjornsdottir (UK)
Pharmacy of sound
Pharmacy Of Sound is an inspiration drawn from the sounds of a big city. Rather then being about the sounds of the city, this piece is about the impact and the pull, the anticipation that we feel lingering in the air
http://www.sarabjornsdottir.com
23:00
Kim Laugs (BE) & Nina Lex (DE)
Seasonal 4errOr
Squaring Vivaldi's 4 seasons circle. About corrupting 4 different versions, deconstructing each other into a new completeness
23:30
Jürgen O Olbrich (DE) 
NO-title
Video performance
00:00
The Black Box Performance
Antihilation
The New Movement have, especially 'composed' and prepared a piece for Things That Go Bump In The Night at Van Eyck Academy. An 'anti' symphony written for duo of grand-hammer and handsaw in A-minor. 'Destruction is also creation!' - Marcel Duchamp
http://www.thenewmovement.se
00:30
Grand Jam
Visitors participate with their own noisemakers and apps on mobile devices together with the present artists and the artists on Skype
Continuously:
Rod Summers (US)
Is there anybody out there?
Minimalist installation
www.vecworldservice.net/blog
Francisco López (ES)
Hyper-Rainforest (2014)
A vital collage of non-transformed rainforest recordings from 17 different countries
http://www.franciscolopez.net
+ Mystery Guest
+ You can listen to works by many audio artists and sound poets via headphone listening