extra muros
18.12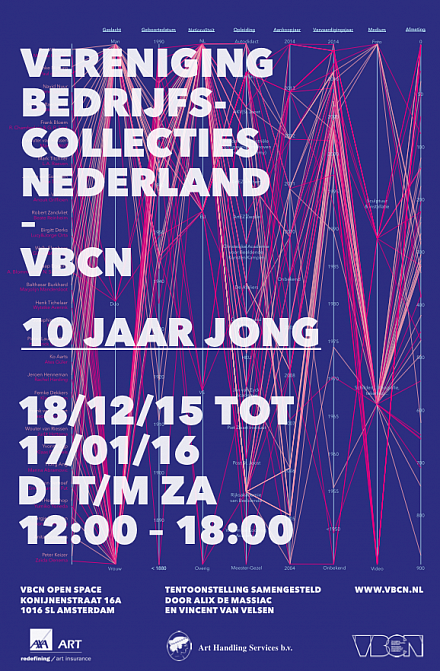 VBCN 10 jaar jong
Van Eyck participant and curator Vincent van Velsen presents in collaboration with curator Alix de Massiac VBCN 10 jaar jong, commissioned by Vereniging Bedrijfscollecties Nederland (Association of Corporate Collections Netherlands). Their analysis of 29 Dutch corporate collections based on measurable parameters such as age of the artist, date, medium and dimensions of the work, resulted in the most standard and most unexpected art works of the corporate collections from the past decade.
The artists Thomas van Linge, Jonas Lund, Céline Manz and the duo Sema Bekirovic & Lotte Geeven were invited by Van Velsen and De Massiac to respond to the analysis and develop new work. These five new works will be on show during the opening of the exhibition on December 18 in the temporary VBCN OPEN Space.
The exhibition is the result of the VBCN OPEN, an award for young curators.
VBCN Open Space
18 December 2015 - 17 January 2016
Konijnenstraat 16A, Amsterdam
Tue-Sat 12:00 - 18:00