Spiegelgrond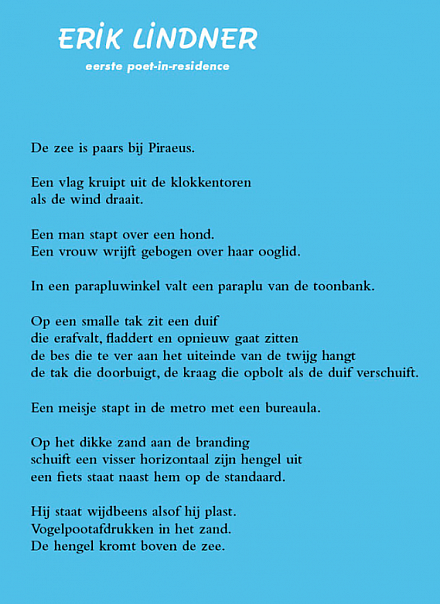 Poetry and Writing
The Van Eyck set up a poet and writer-in-residence programme entitled Spiegelgrond (Mirror Ground) in collaboration with the Dutch Foundation for Literature. Each year four poets and writers are invited to take up a one or two month residency. They participate in the programme, interact with the other participants and present their work. The institute's shared mirror ground will express and reveal the similarities and differences of the works and creative processes of poets, artists and designers. 
In the autumn of 2013 Erik Lindner was the first poet of the poet-in-residence programme. Tonnus Oosterhoff worked at the Van Eyck from mid March to mid April 2014. Lieke Marsman stayed at the academy  in september 2014.  In April 2015 Mustafa Stitou started as the fourth poet-in-residence. K. Schippers stayed at the academy in Ocotber/November 2015.
Niña Weijers started in 2014 as the first writer-in-residence. Maartje Wortel succeeded her in January 2015. The Van Eyck welcomed Wytske Versteeg  in May 2015 for her two month-residency. In september 2015 Rosan Hollak stayed at the academy for a month, in september 2016 she was back in Maastricht for a second month. Bregje Hofstede started her residency on the 1st of February 2016. Joost de Vries did his residency at the Van Eyck in May-June 2016. Anneke Brassinga was poet-in-residence from 11 November - 8 December 2016. In 2017 we welcomed writer Roos van Rijswijk from April-June. Poet K. Michel joined us in June and July and writer Basje Boer in September-November 2017. In January/February 2018 Vicky Francken is our new poet-in-residence.
Erik Lindner is currently advisor Literature at the Van Eyck. 
Spiegelgrond (Mirror Ground) is a collaboration between the Van Eyck and the Dutch Foundation for Literature. 
The writer-in-residence programme is part of Wanderlust, the programme for talent development in an international context initiated by the foundation.