Sophie Schmidt (DE)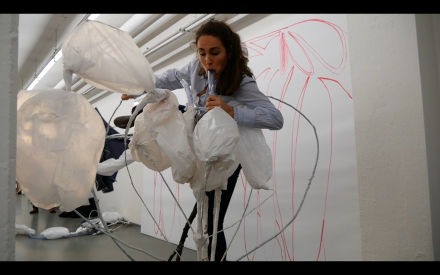 Sophie Schmidt (b. 1986, GER) graduated from a Diploma of Fine Arts at the Academy of Fine Arts Munich in 2017. Before she studied Philosophy and German Literature at the Ludwig- Maximilian-University Munich.
Sophie Schmidts artistic practice combines a variety of media including painting, performance, language and sculpture. In her work the body is central. She investigates and explores the expected and unexpected potentials and limitations of the body which not only encompasses the human. In Sophie Schmidts performances, she works with prostheses that help her move. She started exploring the body and its possibilities of movement by building machines called 'machines of locomotion' ("Fortbewegungsmaschinen").
During her stay at the Van Eyck, painting has placed itself within her practice of performance and installation. For her painting is connected to the body and therefore to everything else.