Domenico Mangano & Marieke van Rooy (IT+NL)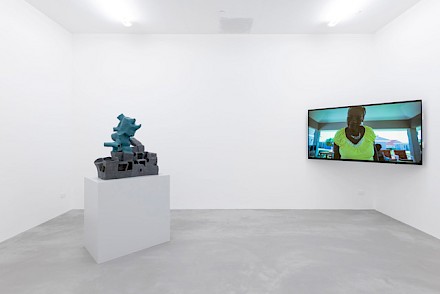 Domenico Mangano (Palermo, IT, 1976) & Marieke van Rooy (Weert, NL, 1974) live and work in Amsterdam. Domenico Mangano began his artistic career in the late nineties and formed a duo with Marieke van Rooy in 2014. Marieke van Rooy has an academic background in political history of the built environment.
The duo's work is characterised by a combination of artistic practice and archival and field research, related to the political actuality of the intersection of social and cultural heritage. The experience of the place/genius loci is fundamental to their projects consisting of film, ceramics, spatial installations, drawings and publications. Their works have been shown, amongst others, at Whitechapel Gallery (London), Gallery of Modern Art (Rome), Beyond Borders Beaufort (Ostend), I Biennial of Prague, De Kunsthal (Rotterdam), Casco / Fotodok (Utrecht), Futura (Prague), MOCA (Chicago), Palazzo Grassi (Venice), De Vleeshal (Middelburg), II Athens Biennial and Nomas Foundation (Rome).
During their residency at the Jan van Eyck Academie, they will conduct research into the creation and operation of two entertainment caves – a copy of the Roman catacombs and a Dutch coal mine -, constructed in the beginning of the 20th century in Valkenburg (15 kilometres from Maastricht). This artistic research will be the starting point for a body of work that investigates the concept of simulacrum nowadays, permeated by the world of social media.