Mat Do (GB/NL)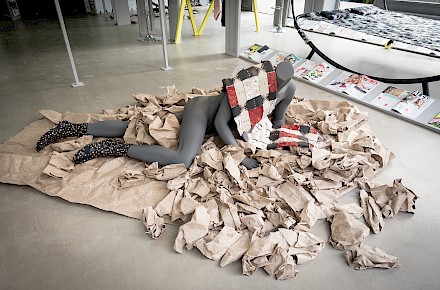 Mat Do (b.1982, UK) is a visual-artist based in the Netherlands and England, and is a graduate of the Piet Zwart Institute Fine Art MFA programme (Rotterdam, NL)
Mat's interest lies with the terms and conditions of visual representation; the relations between things and ourselves. 
Through a multidisciplinary practice he searches for the contradictions and tensions borne of the subjective-objective experience; of the image (of things) – as a way in to unpacking and exploring the sociopolitical impact of production and consumption within a late-capitalist neoliberal landscape; holding a particular interest in how these influence and shape individual and collective notions of work, class and status.
Often beginning with the repurposing and reworking of existing moments of contemporary visual culture – fashion-clothing, branding, commodity, counter/cultures, to name just a few – pulling them apart, forcing them into other worlds of sculpture, video, performance and installation. Via the transition from one medium to another Mat intentionally looks to stretch and disfigure form and meaning – in the process revealing dualities and discrepancies, interrogating their values and affects.
During his time at the Jan van Eyck Mat shall contemplate the existence, role and potential manifestations of a "radical chic" counterbranding in today's conflicted world.
Mat's residency is kindly supported through the Fonds Kwadraat (NL) interest-free loan scheme.