Andrea Eva Györi (HU)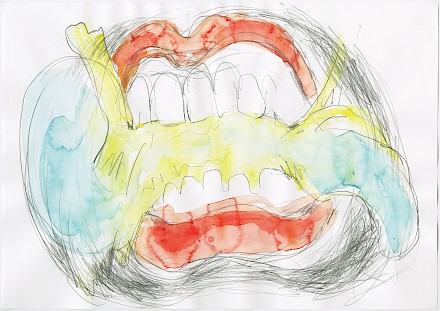 Andrea Éva Győri very personal, very intimate kind of storytelling is unique. She implements these stories in a wide range of works of art, such as performances, videos, installations, sculptural works and drawings. Her body of work asks questions on family and femininity, the self-image, and self-assessment, in a way that reveals the viewers own setting. The origin of Andrea`s Art is curiosity. She asks questions and solves them in art. Proximity to her protagonists is of major importance to her. She is very skilled in observing people's relations. In her role-playing, she is observer, participant and examined person at the same time. In this mode, she explores together with her participants certain subjects of general concern, like physical and psychical needs, phantasies, sexuality, phobia, fun, pain, cultural norms and their overcoming.
Andrea Éva Győri Graduated in Fine Arts, Staatliche Akademie der Bildenden Künste, Stuttgart in Class of Christian Jankowski, Mike Bouchet, Felix Ensslin. Studies of Fine Arts at HONGIK University; Asien Oriental painting studies, Seoul, Korea, guest studies in Human Anatomy and Autopsy at the Medical University of Budapest.
Győri has presented her work at international institutions, amongst others,(current) Haus der Kunst, Munich; (upcoming) Vleeshal Center for Contemporary Art, Middelburg, NL, (Solo); Grimmuseum, Berlin, (Solo); MANIFESTA 11, Zürich; Art Brussels 35th, Brussels; Victoria Art Center, Bukarest, Romania; SeMA NaNJI Exchibition Hall, Seoul Museum of Art, Seoul; Kuandu Museum of Fine Arts, Taipei, Taiwan; /si:n/ Biennial for Videoart and Performance in Palestine, Ramallah. 
Andrea Éva Győri,
Deep Mouth Relaxation,
Watercolour and pencil on paper, 2018,
1 / Series of nine parts, each 29,7 x 42 cm, Unique