Aliki van der Kruijs (NL)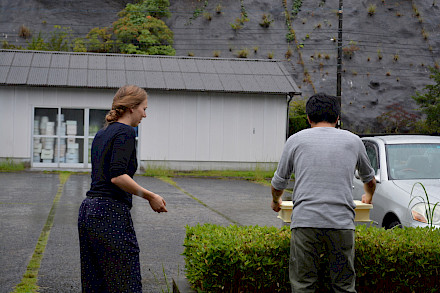 Aliki van der Kruijs is a Dutch researcher & designer in the expanded field of textiles. With her work she investigates the synergy between weather, matter, colour and space. 
Her practise fundaments on theory, material experiment and fieldwork. Crafts are combined with her deep interest in Earth science. This navigation brings her to consult or collaborate with scientists in the domains like meteorology, pedology (soil science) and oceanography. Many of her projects originated on or in response to a location or a specific technique. From a conceptual approach, a curiosity for matter and science and an experimental working attitude she develops a visual grammar in which natural elements such as rain, the sun, heat or salt have been used several times as a "tool" to edit material and generate meaning. In recent years, she developed textiles made by rain and textiles based on soil drilling measurements, glacier compositions and the rhythm of the sea. The works can be seen as publications about her continuous explorations to the living library of Earth and the material culture of it's inhabitants. 

During the residency at the Jan van Eyck, she wants to take time and focus to construct a language for a new phase for her practice in order to calibrate with the fast changing developments in the world through tactility and intuition. She wants to specialise even more in the crafts weaving and tufting and in the artistic (re)presentation and agency of textiles.

Aliki graduated with a Master in Applied Art from the Sandberg Instituut in Amsterdam and holds a Bachelor in Fashion design from ArtEZ in Arnhem. Next to her practice she is teaching at Dutch art and architecture academies.