Emilia Tapprest (FI)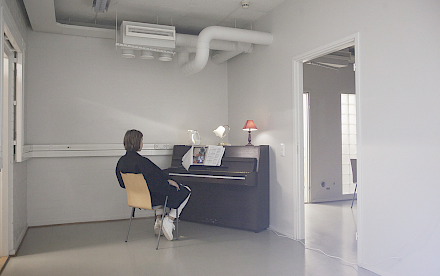 NVISIBLE.STUDIO is the independent research practice of Finnish designer-filmmaker Emilia Tapprest (b. 1992). Coming from the background of industrial design and new media at the Aalto University in Helsinki, she completed her second master in film at the Sandberg Institute in Amsterdam in 2019. With an early interest in ubiquitous computing and ambient intelligence as objects of design, her focus has shifted to investigate implications of technologies in the context of emerging power arrangements in society at large. 
Her present practice is situated between design-ethnographic field research and speculative worldbuilding in close collaboration with artists and experts around the world. Her films tackle themes such as human connectedness and agency in the quantified age, exploring how a system's underlying motivations produce particular 'affective atmospheres' in interaction with its social fabric.
During her residency at the Jan van Eyck academie, Emilia will work on the third development phase of ZHŌUWÉI.NETWORK, continuing her collaboration with historian of science and music producer Victor Evink. The project consists of the imaginative development of three alternative near-future worlds steered by different ideological paradigms, forming the foundation for the production of a 35-minute fiction film during 2020-2021.