Hamja Ahsan (UK)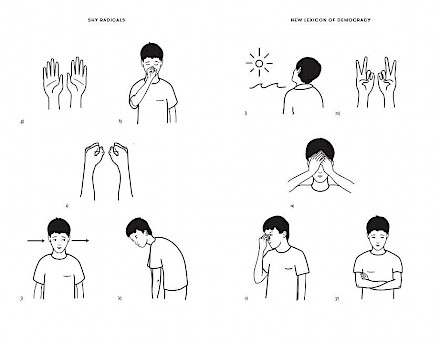 Hamja Ahsan (b. 1981) is a an artist, writer, activist and curator based in London. His debut book Shy Radicals: Antisystemic Politics of the Militant Introvert (Bookworks 2017) – a work of speculative fiction about a revolutionary political party for shy, quiet, introvert and autistic spectrum peoples –  has developed into several art projects and collaborations including a film produced by Ridley Scotts Associates. He was recently awarded the Grand Prize at the 2019 Ljubljana Biennial of Graphics curated by Slavs and Tartars for the commissioned work Aspergistan Referendum based on this book. During his residency, he will further develop research the space of constitutions and the law as fiction and conceptual art, how nations and aspects of the state can be function.
He is co-curator and co-founder of DIY Cultures in 2013, the UK largest festival of zines, creative activism. The event established itself as a leading national forum for artists-run initiatives and alternative publishing, establishing international links with Asia and Africa. The event distinguished itself by by its commitment to Black and people of colour empowerment and centralising marginalised histories and subcultures such as decolonalising initiatives, diaspora stories, prisoner solidarity, radical mental health and Muslim communities under the War on terror. His research goal is to develop a pedagogy and creative curriculum, exploring Zines as critical practice.
As an activist and campaigner he was shortlisted for the Liberty Human Rights Award 2013 for his Free Talha campaign on extradition, solitary confinement abuses and detention without trial under the War on Terror. During his residency he will further exploring ways of archiving solidarity with those under state crime, oppressive home office policies and political prisoners. He has an ongoing urrently working on a project about the use of zines in Hillsborough Justice, concerning the deaths of 96 Liverpool FC fans – Europe's largest police cover-up. He will explore display structures of curating activist emphemera. 
His art practice is trans-disciplinary – encompassing conceptual writing, photography, building archives, performance, video, sound and making zines. He is on the editorial board of Asylum - Radical Mental Health zine.