Johanna Bruckner (AT)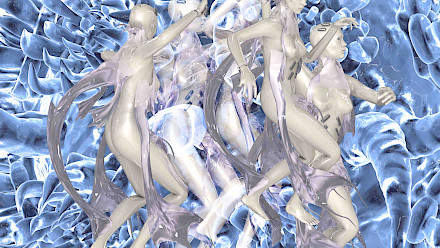 Johanna Bruckner (b. 1984, Vienna) is an internationally exhibited artist. Recent exhibitions and performances include transmediale 2020, the Haus der Kulturen der Welt, Berlin, the Kunstraum Niederösterreich Wien, the 57th Venice Biennale, the CAC Centre d'Art Contemporain Geneve, the Galerie EIGEN+ART Lab, Berlin, the Migros Musem für Gegenwartskunst, Zürich, the Swiss Pavillon at the 16th Venice Architecture Biennial, the KW, Institute for Contemporary Art, Berlin, the Villa Croce, Museum for Contemporary Art, Genoa; the Kunsthaus in Hamburg; the Kunstverein Harburger Bahnhof and Manifesta 11, Zurich. Bruckner was recently nominated for a fellowship at Harvard University and is currently an is currently an artist-in-residence at the Swiss Institute in Rome.
Under the umbrella of Lovecraft she currently works on atmospheric escape and extracorporeal bodies. She is interested in the non/human languages of desires caused by the gravitational ripples and their molecular affinities and agencies. New work calls for questioning manifest notions of corporeality, allowing differentiated perspectives on desires between physical and non-human entities. It is invested in creating systems in which new libidinal orders, toxic inverts and techno-queer microbes can affirm the present and future as joint temporalities. 
Image: Molecular Sex, Video still, Johanna Bruckner, 2020