Food lab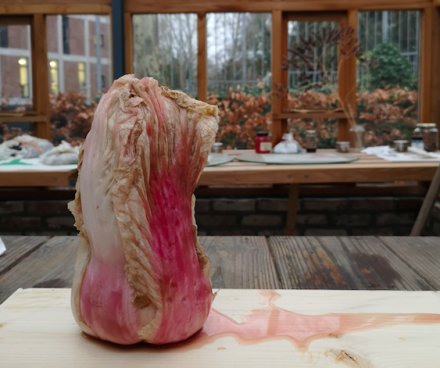 In January 2018, the Van Eyck launched a new Lab: the Food Lab. The Lab enables artists to research in depth their relation to food, to actively explore what food means in our day and age, and to consider the relation of food to ecological and social issues. The kitchen and café-restaurant of the Van Eyck function as the physical basis of the Food Lab. Here experiment, encounter, cooking and tasting come together. Naturally, the Food Lab will work closely with the Jac. P. Thijsse Lab for Nature Research.
Artists whose artistic practice is based around food and cooking, can apply via the regular Open Call for Applications (deadline beginning of October). Annually a new cook-artist-participant is selected, so that the kitchen and the café-restaurant will be infused with new aromas, tastes and dynamics every year.
In 2018 Rain Wu is the first Van Eyck participant to run the Food Lab. She is responsible for petit breakfast, lunch and occasional afternoon sweets in collaboration with chef Marente van der Valk.
 
Our new kitchen will be local, seasonal, organic, experimental and brimming with healthy veggies and simple yet delicious platters to surprise your taste buds, -all made with respect for our natural environment. Seasonality of the dishes means in winter you may expect old techniques such as fermenting, pickling and drying and in the summer we hope to include fresh veggies and herbs out of our garden. The locality of the dishes implies we aim to source ingredients from small, artisan food producers to support the Limburg economy; from beekeepers to chocolatiers to cheesemakers! The Van Eyck is an art institute, so we will allow ourselves to be eating and testing experimental recipes, continuously tasting and tweaking, making sure to serve you surprising yet lip-smackingly good food.
The new kitchen cares for the environment: we believe eating is a social and political act as it involves looking after the land for future generations. This means we have decided to run a vegetarian kitchen and kitchen waste is minimised by preparing vegetables with thrift in mind and making sure to compost and recycle our waste.
The Food Lab is open to catering requests for those who care about delicious, playful and organic food.  For questions regarding the catering of events by the Food Lab, please contact Anne Vangronsveld: anne.vangronsveld@janvaneyck.nl
ABOUT THE CHEFS:
Marente van der Valk is a Dutch-born, London based chef, designer and foodstylist. She graduated in 2012 from a MA Design and Environment at Goldsmiths University of London, and has since then been focusing on projects and events with an emphasis on environmental awareness and community mindedness. Her work is often a multi-sensory experience where a love for bringing people together results in a wealth of flavours and colours and a feel-good atmosphere.
Rain Wu is a Taiwanese-born, London-based artist and architect. She graduated from the Royal College of Art (2013) and University College London (2009). Her works are concept driven and arch over a spectrum of materials, scales and spatial experiences. She also plays with food to involve the audience in multi-sensorial ways. She was one of the first Designers in Residence at the new Design Museum in London and is an associate lecturer at Chelsea College of Art, London.

OPENING TIMES
Monday to Friday 9:00 – 17:00
Breakfast: 9:00 – 11:00
Lunch: 12:00 – 14:00
You can follow the Van Eyck Food Lab on Instagram: instagram.com/vaneyckfoodlab