Elsa Stansfield Lab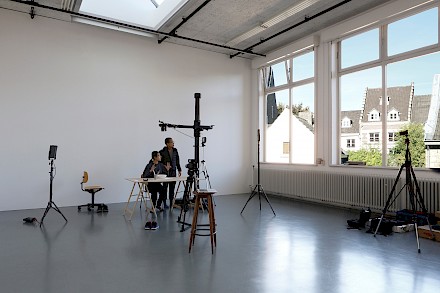 Multimedia workshop
The Elsa Stansfield Lab is a laboratory of the new media, in particular sound, film, video and photography. Its remit also includes analogue techniques. The Lab supports participants, who, almost without exception, take advantage of digital media. 
The Elsa Stansfield Lab is pleased to accommodate the so-called mixed media and time-based arts – photography, film and video, audio and computer art. Ever since 1980 the Jan van Eyck Academie has established a name for itself in the field of time-based arts. It was one of the first institutes in Europe to see the artistic possibilities of video art and mixed media art, so it built a video studio to enable the making of its own productions. 
These days, too, there are cameras and montage sets, as well as computers, a anechoic chambre and, of course, a darkroom. The region offers little or no opportunities for making new media productions; the Werner Mantz Lab meets this need and guarantees special productions, not least by virtue of the enthusiasm and professionalism of its staff. The Elsa Stansfield Lab collaborates with Video Power, a platform for promoting young film talent in the southern Netherlands, FLACC and C-mine in Genk (BE) as well as regional broadcasting station L1.