08.03.18 – 10.03.18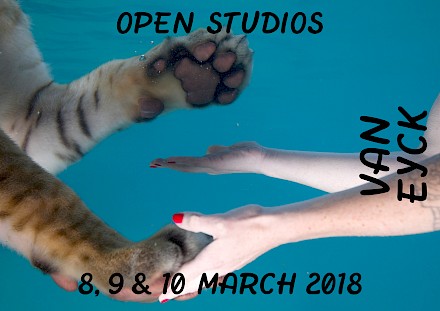 2018
The participating artists, designers, architects, curators and writers are displaying their artistic research and collaborative projects resulting from their residency at the Van Eyck during three Open Studios days on 8, 9 and 10 March 2018. The installations, videos, performances, paintings and readings testify to the stance and possibilities of the Van Eyck.
The central Open Studios exhibition is curated by participants Bernke Klein Zandvoort and Rodrigo Red Sandoval.
All studios, the exhibition spaces, Labs, gardens and other locations in and beyond the academy building are open to the public: we look forward to welcoming you to the Open Studios 2018 on 8, 9 or 10 March!
 
FACT:
Thursday 8 and Friday 9 March from 12:00 - 17:00: Preview Days: the academy welcomes invited guests
Friday 9 March from 17:00 – 19:00: festive public opening of the Open Studios
Saturday 10 March from 10:00 – 17:00: the Van Eyck holds open house for the public at large
If you wish to visit the Van Eyck during the Preview Days, please send an e mail to: register@janvaneyck.nl
Press: also welcome on Wednesday 7 March 12:00 - 17:00, send an e mail to: solange.roosen@janvaneyck.nl
PROGRAMME OF PERFORMANCES: download the programme here
PARTICIPANTS:
Alexandra Phillips (US)
An Onghena (BE)
Andrea Éva Győri (HU)
Anna Maria Łuczak (PL_NL)
Basje Boer (NL)
Bernke Klein Zandvoort (NL)
Bridget Mullen (US)
De Onkruidenier - Jonmar van Vlijmen (NL) & Ronald Boer (NL)
Diego Tonus (IT_NL)
Giuseppe Licari (IT_NL)
Guido Yannitto (AR)
Hagen Verleger (DE)
Imran Channa (PK)
James Gregory Atkinson (DE/US)
Jeremy Olson (US)
Jessica Segall (US)
Joonas Hyvönen (FI)
Julius Heinemann (DE)
Junsheng Zhou (CN)
Katherine MacBride (GB_NL)
K. Michel (NL)
Lotte Meret Effinger (DE)
Ludovica Carbotta (IT)
Matthew C. Wilson (US)
Nina Glockner (DE_NL)
Paolo Patelli (IT_NL)
Poku Mensah (GH)
Raewyn Martyn (NZ)
Rain Wu (TW)
Rasmus Nilausen (DK)
Rodrigo Red Sandoval (MX)
Roos van Rijswijk (NL)
Rosanne van Wijk (NL)
Santiago F Mosteyrín (ES_NL)
Sean Kuhnke (US)
Sharon Van Overmeiren (BE)
Sissel Marie Tonn (DK_NL)
Sofie Van der Linden (BE)
Sophie Schmidt (DE)
Tamara Kuselman (AR/ES_NL)
Taraneh Fazeli (US)
Ted Hyunhak Yoon (KR)
Tom Kok (NL)
Vera Gulikers (NL)
Vicky Francken (NL)
Image: Jessica Segall, un-common intimacy (Tiger Touch) 2017, performance still