14.03.19 – 16.03.19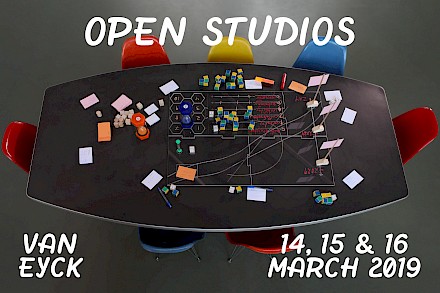 2019
Our Open Studios 2019 will take place on 14, 15 and 16 March!
During Open Studios an international group of 46 participating artists, designers, curators and writers will show what they have been working on the past year, in their studios, the exhibition spaces, Labs and other locations throughout and beyond the academy building. The works on show, the experiments, research and collaborative projects will give an insight into their work process and testify to the possibilities of the academy. The central Open Studios exhbition Master Tools is curated by participant Riksa Afiaty. In the Writers' Studio a programme of daily talks is scheduled.
The preview days for art professionals take place on Thursday 14 and Friday 15 March, both days from 12:00 – 17:00 
The public opening will be held on Friday 15 March from 17:00 – 19:00
On Saturday 16 March the studios will be open to all from 10:00 – 17:00
VISIT DURING PREVIEW DAYS
The preview days are on invite only. If you're an art professional and you haven't received an invite and you do wish to visit the Open Studios during the preview days, please send your request to: register@janvaneyck.nl.
GROUP VISIT
If you wish to visit one of the Open Studios days with a group (your colleagues or students), please contact us via register@janvaneyck.nl

PROGRAMME
OPENING
Friday 15 March at 17:00 uur with Flemish Minister for Culture Sven Gatz and Deputy for Culture of the Province of Limburg, Ger Koopmans.
PARTICIPANTS
Alexandra Phillips (US)
Ana Guedes (PT)
Andrea Canepa (PE/IT)
Andrea Éva Györi (HU)
Anna Ihle (NO)
Anne Huijnen (NL)
Aram Lee (KR)
Artun Alaska Arasli (TR)
Ben Weir (UK/IE)
Christopher Meerdo (US)
Daniel de Paula (BR)
Dasha Tsapenko (UA)
De Onkruidenier (Jonmar van Vlijmen, Ronald Boer) (NL)
Diego Tonus (IT)
Elisa Strinna (IT)
Elnaz Salehi (IR)
Emma Van Roey (BE)
Gabriella Marcella (GB)
Georges Senga (CG)
Giulio Squillacciotti (IT)
Hasabie Kidanu (ET/US)
Ilya Fedotov-Fedorov (RU)
Jhen Chen (TW)
Joonas Hyvönen (FI)
Julius Heinemann (DE)
Karoline Swiezynski (DE)
Katja Verheul (NL)
Kristina Sedlerova (FI)
Lietje Bauwens (NL)
Ludovica Carbotta (IT)
Lyndon Barrois Jr. (US)
Maarten van der Graaff (NL)
Marente van der Valk (NL)
Marissa Lee Benedict (US)
Marwan Moujaes (LB)
Nina Glockner (DE)
Quenton Miller (AU/GB)
Rain Wu (TW)
Rasmus Nilausen (DK)
Riksa Afiaty (ID)
Sean Ervan Kuhnke (US)
Sepideh Zamani (IR)
Sofie Van der Linden (BE)
Sooji Lee (KR)
Sytske van Koeveringe (NL)
Vera Gulikers (NL)

Image: Nina Glockner, Collective Voice Detector, 2018 
Photo: Werner Mantz Lab, Jan van Eyck Academie