05.03.20 – 07.03.20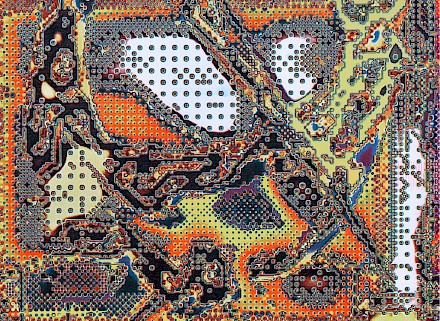 2020
OPEN STUDIOS 2020
5, 6 and 7 March
You are most welcome to join us for our annual Open Studios on
5 and 6 March 12:00 - 17:00 preview days for art professionals*
6 March 17:00 - 19:00 open to the public
7 March 10:00 - 17:00 open to the public
As a post-academic institute, the Jan van Eyck Academie offers residencies to artists, designers, researchers, writers, curators, and architects. By equipping them with the time, space, and expertise needed to further expand their practice, each participant is able to elevate their artistic horizons, expand their practice in depth, and develop unique and thought provoking projects.
This year, the Open Studios will provide some 45 participants with an opportunity to present what they have been working on during the past residency year. For this occasion, the academy - its studios, public spaces, labs, gardens and other locations in and beyond the building - will be filled to the brim with exhibitions, presentations, performances, and more. 
The public opening will commence with words by Eelco van der Lingen, director Mondriaan Fund, and Ger Koopmans, the Alderman of Culture, Province of Limburg.
This year, the central Open Studios exhibition The Wall at the End of the Rainbow is curated by participant Natasha marie Llorens. Bringing together works by 10 artists, it encourages perceiving the world from a unique perspective, minding the effects of underlying infrastructures, networks, and conventions that surround us on daily basis. With: Joélson Buggilla & Jorge Menna Barreto, Antonio Bermúdez, Jonathan Castro Alejos, Kent Chan, Elisa van Joolen, Yazan Khalili, Randa Maroufi, Lotte Reimann, Massinissa Selmani, Youngeun Sohn, Marjet Zwaans, Mehdi-Georges Lahlou. Graphic design by Jacob Hoving. Graphic design by Jacob Hoving.
IMPORTANT
* The preview days on 5 and 6 March are invite only. If you are an art professional and wish to attend the preview days, but have not received an invitation, please send your request to register@janvaneyck.nl clearly stating your occupation and motivation. 
** If you wish to visit one of the Open Studios days with a group (your colleagues or students), please contact us via register@janvaneyck.nl
PARTICIPANTS
Alaa Abu Asad (PS), Anna Ihle (NO), Anna Moreno (ES), Antonio Bermudez (CO), Asako Iwama (JP), Audrey Large (FR), Christopher Meerdo (US), Dana Venezia (IL/IT), Elisa van Joolen (NL), Elise Eeraerts (BE), Ellie Kyungran Heo (KR), Erica Petrillo (IT), Femke de Vries (NL), Giovanni Bellotti (IT), Jonathan Castro Alejos (PE), Jorge Menna Barreto & Joelson Buggilla (BR), Kent Chan (SG), Kristina Sedlerova Villanen (FI), Lotte Reimann (DE), Lyndon Barrois Jr (US), Maiko Jinushi (JP), Domenico Mangano & Marieke van Rooy (IT & NL), Marielle Chabal (FR/NO), Marjet Zwaans (NL), Martin Groch (SK), Marwan Moujaes (LB), Mat Do (GB/NL), Mehdi-Georges Lahlou (FR/MA), Natasha Marie Llorens (FR/US), Niina Tervo (FI), Parasite 2.0 (IT/BE), Raja'a Khalid (AE), Saeeda Saeed (SA), Shana Hoehn (US), Tatiana Istomina (RU), Youngeun Sohn (KR)
Writers: Nina Polak, Persis Bekkering, Frank Keizer, Laura Broekhuysen, Rosa Braber
WRITERS' PROGRAMME
Jan van Eyck Auditorium, every day at 15:00
– Thursday, 5 March: Nina Polak, Persis Bekkering, Lyndon Barrois Jr.
– Friday, 6 March: Frank Keizer, Persis Bekkering, Lyndon Barrois Jr.
– Saturday, 7 March: Laura Broekhuysen, Frank Keizer, Julius Heine
More information on the programme, click here
The Open Studios image for this edition - entitled Curing Fear - is made by the Jan van Eyck participant Jonathan Castro.