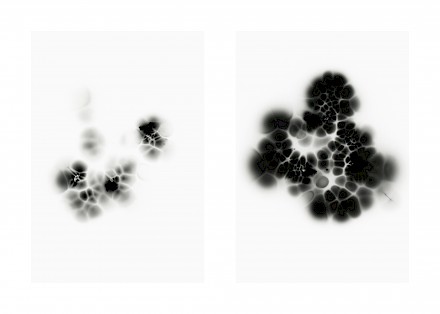 A Small Black Cloud Looking Substance
In the book When the Lights Went Out: A History of Blackouts in America (2010) author David E. Nye addresses society's reliance on—and ambivalence to—complex infrastructural systems which make contemporary architectural space habitable; in essence to keep the natural world at bay. He writes that by 1950 electrical "power and light were thought of as 'natural' and yet 'civilized'. Darkness was increasingly the realm of the unfamiliar, the strange, or the primitive." The public mindset concerning the electrical grid transitioned from novelty to expectation in part due to its ubiquity, complexity, and physical concealment within the built environment. 
The underlying mechanisms which comprise our electrical habitat have become increasingly abstracted; connected components are simultaneously too small and too large for the naked eye to see. We're left to interpret and describe electrical behavior through the perceptible phenomena that machines produce.
On this note, the Van Eyck alumnus Mathew Kneebone's solo exhibiton A Small Black Cloud Looking Substance will be on show at Cloaca Projects in San Francisko from 20 July - 31 August. Kneebone's work examines associations between metaphor and technical understanding.
With special thanks to I See Demise (Joanna Rosso) for graphic design of Techbane Monologue #6: Visual Artifacts.

MATHEW KNEEBONE
(b. 1982, AUS; lives in San Francisco) graduated from the Werkplaats Typografie in 2014 and in the same year was a participant at the Jan van Eyck Academie. He explores the history of electrical innovation and the cultural mechanisms that we adopt to cope with its change. His research correlates technical-complexity, malfunction, and user-anxieties with mythology, superstition, and science fiction. This manifests through writing and drawing which informs the creation of his electronic installations and performances. He has given talks and workshops at AA School, London UK (2011); CCA, San Francisco US (2019); Central Saint Martins, London UK (2016); EKA Gallery, Tallinn EE (2016), Kunstverein, Amsterdam NL (2015); Sandberg Instituut, Amsterdam NL (2015), V2_, Rotterdam NL (2018); and has presented work at 019, Ghent BE (2018); Biënnale van België / Biennale de Belgique, Ghent BE (2019); De Fabriek, Eindhoven NL (2017); De Krook, Ghent BE (2019); Museum Dr. Guislain, Ghent BE (2017); Rib, Rotterdam NL (2018); Sitterwerk, St. Gallen CH (2016–2017); Typojanchi Biennial, Seoul KR (2015–2016). His writing has been published by Grafische Cel / Luca School of Art, OASE Journal for Architecture, and The Serving Library, among others.