24.05.19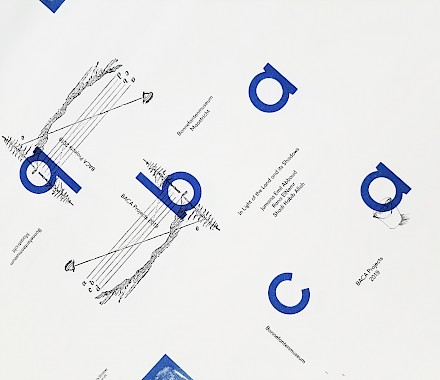 BACA Projects 2019
BACA PROJECTS 
In Light of the Land and its Shadows
24 May 18:00 – 20:00 Discursive programme at the Jan van Eyck Academie
24 May – 8 September 2019: exhibition In Light of the Land and its Shadows at the Bonnefantenmuseum Maastricht
BACA Projects is a collaborative project of the Bonnefantenmuseum and the Jan van Eyck Academie on the occasion of the Bonnefanten Award for Contemporary Art (BACA) 2019, won by Lebanese artist Marwan Rechmaoui. 
While BACA honours an already established artist, BACA Projects aims to support up-and-coming artists by catapulting them into the limelight and bringing their work to the attention of a wider audience. This year for BACA Projects, curator Maha Maamoun is invited to produce an exhibtion that will run alongside Rechmaoui's solo show Slanted Squares in the Bonnefantenmuseum. 
Maamoun's exhibtion In Light of the Land and its Shadows aims to build upon, comment or deconstruct a motive from the main BACA show. The participating artists are Jumana Emil Abboud, Shadi Habib Allah and Rana ElNemr, and in their works they approach the history of place through the narratives embedded in the land and its animate and inanimate inhabitants. Through mediums ranging from drawing, painting, photography, video to sculpture, and languages weaving the documentary and the mythical, the talented artists' works invite us to expand our perceptions of place. 
Rana ElNemr stayed at the Jan van Eyck Academie for a 1-month residency, working together with the Lab for Nature Research and the Printing & Publishing Lab on new work that will be presented in the exhibition. 
On May 24, together with Maamoun, Jumana Emil Abboud and Rana ElNemr will share their experience and talk about their work. Three texts about the works of the participating artists, written by Van Eyck alumna Abla el Bahwary, will be read to the public.
On the evening of the 23rd of May, both the opening of the solo show Slanted Squares by BACA winner Marwan Rechmaoui, and the opening of BACA Projects In Light of the Land and its Shadows, take place at 18:30 uur at the Bonnefantenmuseum in Maastricht (click on the hyperlinks to view the invitations).