09.06.17 – 16.06.17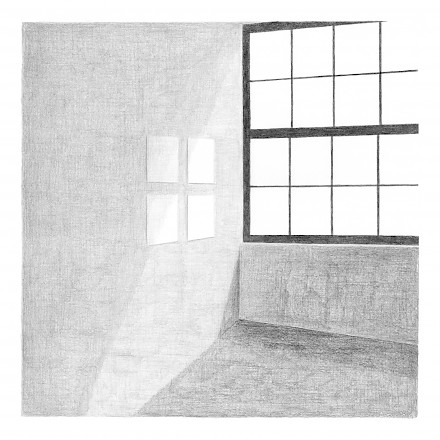 Werkkamers
Over the past ten years, Florette Dijkstra drew the working spaces and studios of writers and artists who influence and inspire her. The series features thirty-three drawings. About twenty of them will be on show in the Project Space of the Van Eyck from 9th – 16th of June.
On invitation of the Van Eyck Florette made the book 'Werkkamers' in an edition of one hundred numbered copies, containing all drawings, in the Charles Nypels Lab. The book is printed with the RISO technique and was folded, paperbound and glued by hand. The book will be presented at the opening of the exhibition.
Florette Dijkstra is a visual artist and writer. Art is always the subject of her work. She tries to see cohesion and connections in art. Her drawings are about studios, works of art and exhibitions, and about everything that precedes the making of a work of art. In addition, she writes essays, stories (like twenty stories about the beginning of art in the book 'Oerstof', 2016) and sometimes a novel. Art is the starting point of each text. In 2012 she started KUNSTWORDTTERUGKUNST, a magazine for and by artists, of which nine issues appeared.
Everyone is welcome at the opening of the exhibition and the book launch of Werkkamers: Friday 9 June 15:00 - 17:00. Both Lex ter Braak, Director of the Van Eyck, and Florette Dijkstra will be present and will speak about the book and the exhibition.
Book 'Werkkamers': 100 numbered copies. Price: € 35, -
Image: Florette Dijkstra. The studio of Marthe Wery, pencil on paper, 50 x 50 cm, 2016