17.10.16 – 20.11.16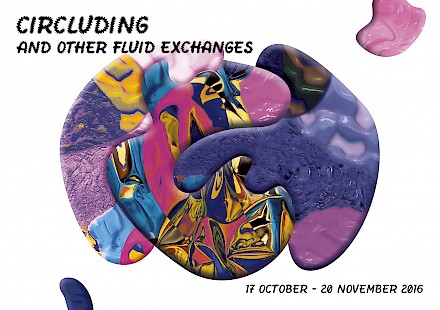 Circluding and other fluid exchanges
The Van Eyck will be host to a series of events and body-based evening workshops that squeeze the perverse in the institution. We are looking at perversity from a feminist perspective: as a counter-normative relation and as a way of willing contrarily. To do this, three speculative propositions will be on offer to participants of the Van Eyck as well as a general audience: leakiness, loitering and endebtedness. Each of these connect a workshop to a specific therapeutic/bodily practice. The aim is to activate the body as a tool for addressing it collectively, hoping to access a shared physical experience. The cafe/gallery space will be used not as an exhibition space, but as a communal thinking space and research archive, displaying a collection of resources that come from the workshops and discussions following them. Strumming the body to pick the brain.
20 NOVEMBER OPENING AT 17:00
Presenting a collection of resources, ideas and experiences that come from the workshops and contributions by the participants
On the 20th of November, we are opening Circluding and Other Fluid Exchanges, as the culmination in the month long series of events and workshops. A mix of current Van Eyck participants, alumni and other artists have contributed to the programme and the works or resources in the cafe/gallery space.
During the evening, there'll be the following events:
Audrey Cottin
Flour Tables, 2015
Audrey's collaborative work invites people to squidge flour paste into figures, objects and landscapes, and references the Swiss psychologist Carl Jung's therapeutic techniques connected to his theories on the psyche.
(cafe/gallery)

Christine Bax
Erotic story reading.
(library)
Please feel very welcome to join us

31 OCTOBER: Endebted Reichian workshop 18:30 - 20:30
25 OCTOBER: Loitering Viewpoints workshop 18:30 - 20:30
24 OCTOBER: Loitering presentation, Jess Wiesner 18.30 - 19:30 
Jess Wiesner is interested in loitering. She likes to loiter in the down-time and stay on the corner of ideas for too long. The work she is developing, part result and part justification of this. Not that loitering need to be justified or that its results are obvious, it's just that Wiesner wonders if it needs some more promotion. You see, Wiesner finds that when she loiters, that's not all she is doing, and inside this double gesturing there's a creative type of friction. A very small one, a little rub, a little rub of matter and mattering.
 
20 OCTOBER: Leaky Lecture, Fiona James 18:30-19:30
A three part performative lecture that organises its delivery by thinking through Wilhelm Reich's theories of the orgasm. As a radical psychoanalyst, practicing from the 1920's, Reich's work looked to collapse the body/ mind binary, suggesting that embodied tensions affect a subject's thought processes and agency. He therefore looked to develop methods of energetic release, believing it could enhance our abilities to intervene socially and politically.
18 OCTOBER: Leakiness workshop from 18:30 - 20:00 at the Van Eyck.
This workshop will use Butoh - a visceral Japanese form of dance theatre - to address a concept of leakiness - through vibration, through one's outside being touched or surprised by what was inside. The workshop will be run by Laura Oriol. 
Please wear loose/comfortable clothing.

For more information on all workshops, events and to register: www.circluding.org
Contributors:
Fiona James
Kym Ward
Jess Wiesner
Azahara Ubera Biedma
Katherine Macbride
Sol Archer
Eloise Sweetman
Simon Wald-Lasowski
Laura Oriol
Christine Bax
Ed Clive
Santiago Fernández-Mosteyrín
Hana Miletić
Luke Tanner
​Huib Haye van der Werf