07.02.20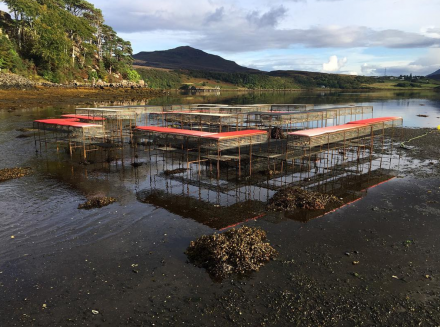 Cooking Sections - CLIMAVORE: On Tidal Zones
On Friday, 7 February, at 17:30 the Jan van Eyck Academie will hold a lecture CLIMAVORE: On Tidal Zones, delivered by Alon Schwabe and Daniel Fernández Pascual from Cooking Sections. 
Location: Auditorium
The event will be live streamed on Youtube.
CLIMAVORE investigates how to eat as humans change climate and explores how to adapt our diet and food infrastructures to new man-made seasons. Since 2016 the project has been tackling the detrimental effects of salmon farms in the Isle of Skye, Scotland. The first iteration consisted in a site-specific installation to gather cross-disciplinary knowledge and challenge the ways in which open-net fish farms are clearing the seabed and creating dead zones, while performing nature. Each day at high tide, the new structure on the tidal zone works as an underwater oyster table to activate filter feeders in the polluted shores of the island. At low tide, the structure emerges above the sea and functions as a dining table for humans, with tastings of ingredients that clean the water by breathing: seaweeds like kelp, carrageenan or dulse, and bivalves like oysters, clams, scallops and mussels. Through a series of ongoing public workshops, the structure is activated in collaboration with local stakeholders, residents, schools, politicians and researchers. Aiming to divest away from salmon farming and develop a new cultural imaginary based on alternative aqua-cultures, a network of local restaurants has also been established as active agents in the process: each replaced farmed salmon with a CLIMAVORE dish. The long-term project aims to look at other understandings of ecology and water monitoring to consolidate human and more-than-human inhabitation on the liminal space of the coast. This performative lecture looks at the tidal zone as a space of opportunity for discussing the spatial construction of the ocean and its shores.
You can find out more about CLIMAVORE here. 
Cooking Sections (Daniel Fernández Pascual & Alon Schwabe) is a duo of spatial practitioners based out of London. It was born to explore the systems that organise the world through food. Using installation, performance, mapping and video, their research-based practice explores the overlapping boundaries between visual arts, architecture, ecology and geopolitics.
Cooking Sections was part of the exhibition at the U.S. Pavilion, 2014 Venice Architecture Biennale. Their work has also been exhibited at the 13th Sharjah Biennial; Manifesta12, Palermo; Lafayette Anticipations, Paris; Serpentine Galleries, London; Atlas Arts, Skye; Neue Nationalgalerie, Berlin; Storefront for Art & Architecture, New York; Peggy Guggenheim Collection; HKW Berlin; Akademie der Künste, Berlin; 2016 Oslo Architecture Triennale; Brussels ParckDesign; and have been residents in The Politics of Food at Delfina Foundation, London. Their work has been featured in a number of international publications (Lars Müller, Sternberg Press, Volume, Frieze Magazine amongst others). They currently lead a studio unit at the Royal College of Art, London.
They have recently been awarded the Special Prize at the 2019 Future Generation Art Prize and are nominated for the Visible Award.