16.05.17 – 19.05.17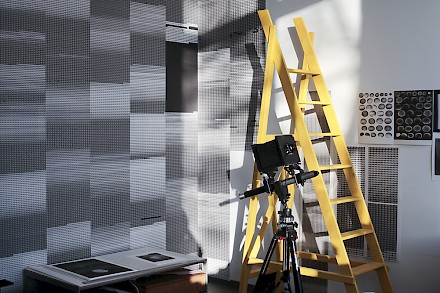 Close Studio: A Viewing
Close Studio: A Viewing
Starting on November 25th 2016 at 08:08 until May 15th 2017 studio 112 the camera in Junsheng Zhou's studio – securely fastened and neatly positioned to capture his working space – has taken a single photograph precisely every minute. Now this endeavour has finished the artist has closed his studio, and opening it again it will only be for the ritual of this project's passing. The mourning of its peering presence lost, the celebration of its completed task. This ritual is made visible in two distinct works.
Presented on the walls of his studio that are within the frame of the image itself the collection of over 90000 photos have been translated into the serial presentation of each image titled Wallpaper 112. Daylight, night, his own absence and presence, and that of all others having visited his studio throughout this duration have all been captured and become part of this extensive sequence. But what are all of these images together? If the wallpaper reveals the serial abundance of this repetitive act, then what is its distillation? It is the single photograph - on the back wall where the camera once stood - that holds compressed within it the entirety of the series. Symbolically all its layers are framed along with it, stacked behind, yet concealed by its successor. Only its last imprint of time allowed visible. Time passed, sequenced and framed. Closing the studio becomes Close Studio.
About:
Junsheng Zhou (b. 1989, CN) takes photographs. His sees photography as a medium not limited to photographic tools but also embracing forms such as text and installation. The Chinese word for photography zhaoxiang combines the character 照 (zhao, to illuminate, to reflect, to mirror, to understand) and 相 (xiang, appearance, form, phase and mutuality). Their combined semantic space corresponds closely to what Junsheng Zhou does. He attempts to place a surface between the object and himself, a surface in which their appearances are joinly reflected.
Junsheng's works generally concern ideas of time and language, and also probe themes such as the use of uselessness and the representation of representation. Junsheng Zhou was born in Beijing, moved to Prague where he studied at the Film and TV School of the Academy of Performing Arts in 2011.
All welcome:
16 - 19 May
9:00 - 17:00
Studio 112