04.07.14 – 22.08.14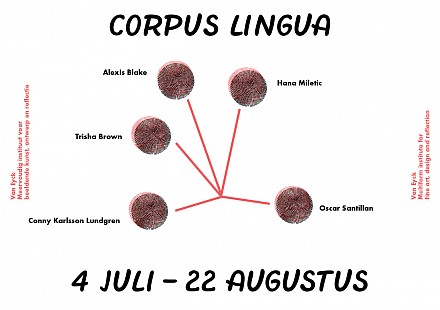 Corpus Lingua
The ambition of Corpus Lingua is to investigate the (potential) language of the body before it becomes a proclamation. It presents the body as a carrier, not of a message, but as the capacity for a statement. This exhibition will show the body in relationship to its (art) historical sensibility and its prospective as an open-ended communication. It will also show the body's position within the speed of change surrounding us as well its potential as an alternative value. 
Participating artists:
Alexis Blake
Trisha Brown
Conny Karlsson Lundgren
Hana Miletic
Oscar Santillan 
Exhibition:
5 July – 22 August 2014
Monday to Friday, 9 a.m. - 6 p.m.
NB: The Van Eyck is closed from 21 July – 10 August