07.10.17 – 05.11.17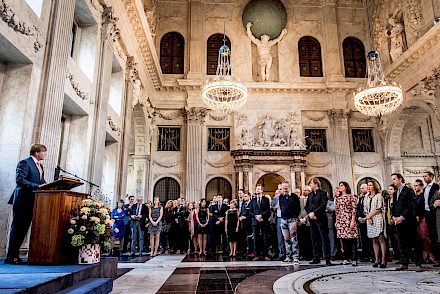 Royal Award for Painting 2017
Van Eyck participant Vera Gulikers and Van Eyck alumnus Niek Hendrix are two of the four winners of the Royal Award for Painting 2017.
The prize was awarded on Friday, October 6, at the Paleis op de Dam (Palace at the Dam square) in Amsterdam by King Willem Alexander.
The jury of the Royal Prize this year: Gijs Frieling, Hans den Hartog Jager, Nanda Janssen, Iris Kensmil, Jan van der Ploeg, Benno Temple (Chairman) and Esther Tielemans.
The exhibitionat the Paleis op de Dam is open to the public from 7 October to 5 November 2017. The Palace is open from Tuesday to Sunday from 10:00 to 17:00 (during the autumn holidays also open on Monday).
Next to Vera Gulikers and Niek Hendrix, Van Eyck alumna Lilian Kreutzberger was also nominated for the prize.
All nominees:
Mohamed Aarab, Kim David Bots, Tessa Chaplin, Steef Crombach, Ricardo van Eyk, Philipp Gufler, Vera Gulikers, Quint Hartmann, Niek Hendrix, Sam Hersbach, Rosa Johanna, Paul de Jong, Frederique Jonker, Raha Khademi Langroudi, Mirte Klück, Rabi Koria, Lilian Kreutzberger, Wouter van der Laan, Janine van Oene, Diana Roig, Suzie van Staaveren, Julius Stibbe, Wieske Wester, Anouk van Zwieten