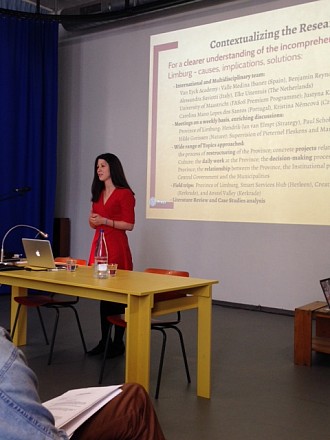 end results The (In)comprehensible Government
On Thursday 26 June the results of the project 'The (In)comprehensible Government' were presented to the public.
The past six months, Van Eyck Mirror, the project bureau of the Van Eyck, in collaboration with Maastricht University and the Province of Limburg, artistically researched the legitimacy and significance of the Province of Limburg for citizens, partners and politics.
'The (In)comprehensible Government' project advanced in two phases - research and concept - and has led to a research report and an artist-in-residence program in the 'Gouvernement', the seat of the provincial government in Maastricht. 
The final presentation started of with a talk by Carolina Mano Lopes dos Santos, master student at Maastricht University, who clearly clarified the questions, concepts and ideas discussed in the first phase. The research team that worked during the research phase concluded that there was a shift of the problem from an incomprehensible to an invisible Province. The team of the second phase was advised to work on the issue of (in) visibility.
Ellen Feiss and Toon Fibbe, participants of the Van Eyck, presented the concepts that surfaced during the second phase. They showed an (in) visible exhibition of artworks, background information and concepts of the province as an institution. Besides traces in the Gouvernement, this (in) visible exhibition can be viewed online. The exhibition will evolve as more artists are asked to make a contribution.