25.10.19 – 03.05.20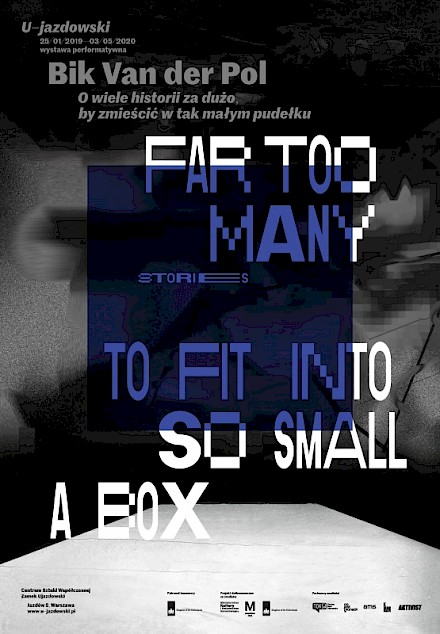 Far Too Many Stories to Fit into so Small a Box
Until 3 May 2020, artists, curators and the Jan van Eyck Academie's advisers Liesbeth Bik and Jos van der Pol from Bik van der Pol (Rotterdam, NL) are presenting their performative exhibition project Far Too Many Stories to Fit into so Small a Box in Ujazdowski Castle Centre for Contemporary Art in Warsaw (PL).
On the occasion of the art centre's 30th anniversary, the exhibition sheds light on the institution's history by reflecting on its archives, collections, the power of memory and oblivion. The title of the exhibition is inspired by a work of the artist Lawrence Weiner - Far Too Many Things to Fit into so Small a Box - placed on the façade of the building in the 1990s, which has become the centre's unofficial motto. Bik Van der Pol critically examine its history and take on board its founding myth, linking it to the creator of its concept Wojciech Krukowski, art historian and founder of the avant-garde theatre Akademia Ruchu (Academy of Movement).
The exhibition includes artworks by Akademia Ruchu, Martin Creed, Andrzej Dłużniewski, Nan Goldin, Wanda Gołkowska, Jenny Holzer, Ilya i Emilia Kabakov / Joseph Kosuth, Marek Kijewski, Barbara Kruger, Oleg Kulig, Natalia LL, Zbigniew Libera, Joanna Rajkowska, Nedko Solakov, Roman Stańczak, Alina Szapocznikow, Winter Holiday Camp, and many others.
The project is produced as part of Bik Van der Pol's artist residency at the Ujazdowski Castle Centre of Contemporary Art. 
For more information about the project, visit Castle Centre for Contemporary Art website.