28.06.18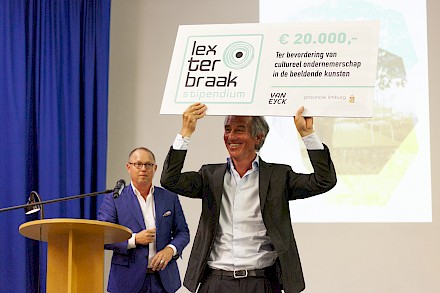 Farewell celebration Lex ter Braak
Our director Lex ter Braak bade the Van Eyck farewell on 28 June. It was an unforgettable day; with great weather, wonderful people, an amazing exhibition and praising words. Recognition for what Lex has done and has meant for the Van Eyck and the region will come in the form of the 'Lex ter Braak Stipend', awarded by the provincial deputy of culture, Ger Koopmans. Moreover, Lex received the royal medal Ridder in de orde van Oranje-Nassau from the mayor of Maastricht, Annemarie Penn-te Strake.
The Van Eyck thanks Lex for his dedication and commitment during the past 7 years and wishes him a productive time in his studio.
Thank you to everyone who attended!
—
Our director Lex ter Braak is leaving the Van Eyck. He is returning to where it all started for him: his own studio.
In the seven years that Lex has directed the Van Eyck, it has developed into an open, multifaceted post-academy for artists, curators, writers, poets, designers and architects, as well as for the public.

Thanks to his vision, daring and persuasiveness, the Jan van Eyck Academie has successfully transformed into the multiform Van Eyck with its component institutes, Labs, international projects and masterclasses. The building too has been renovated and enhanced, with exhibition spaces, gardens and a grand café. The Van Eyck is thus able to offer its participants every opportunity to develop the full scope of their talents.
The changes have created a solid foundation on which the academy can confidently build its future.
On Thursday 28 June, the doors of the academy will be open for a farewell celebration from 16:00 to 20:00. Everyone who feels connected to the Van Eyck, is welcome to raise a glass with us, and to wish Lex and the academy an exciting future.
We highly appreciate your presence, due to limited capacity, please let us know if you can come (email to register@janvaneyck.nl) by 18 June.