16.06.18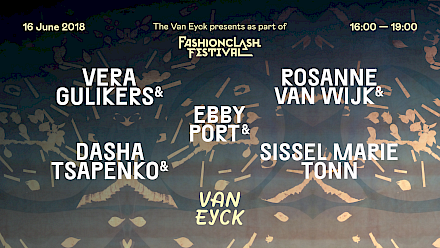 Fashionclash Festival
VAN EYCK PRESENTS AS PART OF FASIONCLASH FESTIVAL
VERA GULIKERS, SISSEL MARIE TONN, ROSANNE VAN WIJK, DASHA TSAPENKO & EBBY PORT
Saturday 16 June 2018
16:00 – 19:00
VERA GULIKERS presents paintings in the Director's office of the Van Eyck.
ROSANNE VAN WIJK is fascinated by visible and non-visible systems and constructions we face in our daily lives. Systems we are constantly adapting to and interacting with. Rosanne's performance during FASHIONCLASH is a follow-up on her last year's performance during the festival How to deal with the restrictions of a system? and is part of her ongoing research on this topic.
Performance at 16:45 and at 17:45 in the small exhibition space
In DASHA TSAPENKO's performance Dress_de_Code the ritual of getting dressed is explored through the prism of architecture and choreography. Our movement on daily basis and accustomed body techniques are questioned and challenged, the (usually invisible) transition from a private body to a social one is revealed.
Next to this performance, three installations of the Fitting Room Series are on show, exploring the process of [un]dressing and changing dress within the fitting room space, but isolating it from its outcome - the dressed body. Uncovering the mutually defined relationship between the body and its covers.
In a one-hour installation, in the open air of the van Eyck garden, EBBY PORT presents her summer collection: kriskras. All prints are silk screen printed at the Charles Nypels Lab for Printing & Publishing of the Van Eyck. 
From 17:30 – 18:30 in the Van Eyck Woodland Garden
In the ongoing process-based work 'Becoming Escargotapien' SISSEL MARIE TONN creates objects, environments and practices that challenge notions of where the body is perceived to end and the surroundings begin. In this video almost-architectural tactile outlines of a body are enlisted to make the bound­aries of the body indefinite, permeable and malleable.
 
BIO'S:
Vera Gulikers holds a Master of Fine Art degree acquired from Sint Lucas University College of Fine Art and Design Antwerp (2016), and a Bachelor of Fine Art from Maastricht Academy of Fine Art and Design (2014). In 2017, she was awarded the Royal Prize of Modern Painting for her works Poetsdoek and Testdoek -both paintings made with egg-tempera. During her stay at Van Eyck she focused on painting and sculpture by examining the medium of painting itself and its close relation to the painterly qualities of "female" conventions. She works with old painting techniques like egg-tempera and fresco, together with screen printing, couture textiles, cleaning products, and puff materials.
Rosanne van Wijk graduated with honours from the BA Fashion Design of the Academy of Fine Art & Design in Arnhem (ArtEZ) in the Netherlands in 2016. After graduating she felt the need for change of the fashion system. Looking to find a different approach to fashion, she applied for a residency at the Van Eyck in Maastricht that she recently finished. During her working period at the Van Eyck she used material research as a methodology to investigate systems and how they are interconnected.
Dasha Tsapenko has a background in architecture and social design. In a time where technologies are dominant, in her work, Dasha aims to underline the importance and value of consciously embodied spatial acts. By putting the human body into various contexts as an initial departure medium and exploring daily activities through it, Dasha aims to challenge the limits between architecture, contemporary art, design, and sociology. Dasha recently started her residency at the Van Eyck.
Ebby Port is an independent Dutch womenswear brand. Making items unique by adding hand-painted silkscreen prints, Ebby approaches fashion in an artistic way, using the fabric like a canvas to express her feelings and emotions, intuitive and abstract at once. 
Sissel Marie Tonn's practice focuses on sensory and perceptual structures of attention and perception within environments undergoing change. She situates herself within the public discourse by seeking knowledge across a variety of fields and disciplines and approach these issues by zooming in on minor events of experience. She thinks of works as 'tools' that challenge the body's preconfigured modes of paying attention, and make clear the reciprocal relationship between the body and the surrounding environment. Tonn wants to challenge the inherent plasticity of our organism, to question how artefacts, forms of knowledge and the space we build around us shape our perception of the environment. 
On different locations in Maastricht, Fashionclash Festival showcases innovative and interndisciplinary emerging designers and artists, for more information on the programme, see fashionclash.nl