05.09.19 – 07.09.19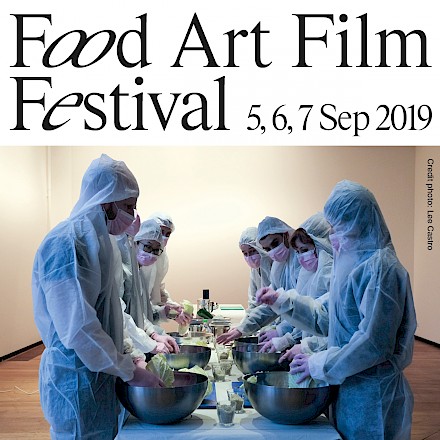 Food Art Film Festival FULL PROGRAMME
FOOD ART FILM FESTIVAL
On Digestion
5, 6, 7 September 2019

The Food Art Film Festival is an annual, cross-disciplinary research-festival that builds on an international as well as local network of farmers, beekeepers, chefs and scientists, alongside artists, designers and architects to demonstrate how creativity can help shape more sustainable (food)futures. The FAFF is organised by the Lab for Nature Research and the Food Lab of the Jan van Eyck Academie.
5, 6 and 7 September the Jan van Eyck Academie is filled to the brim with workshops, tastings, performances, dinners, readings, walks and films that help us understand the complexities and importance of (not only human) digestive systems. Through digestive yoga or the Enhanced Digestion Sauna with medicinal herbs, to a workshop on organisational ecology whilst learning to make kimchi, we research the spectrum of wild to domesticated in relation to bodies, environments and edibles. 
FULL PROGRAMME:
THURSDAY 5 SEPTEMBER
*Programme free and open to all, no registration needed. Language: English
10:00 - 12:00 – Workshop and fieldtrip with Jorge Menna Barreto and Joelson Buggilla on making botanical drawings to learn to recognize wild edibles. Take a walk on the wild side; do a wild edible walk led by a botanist and learn to identify species. Meeting point: Van Eyck café. 
12.30 – Themed lunch: Biodiversity broth. The soup as a "picture" of the season and place of where we live, with a great variety of the ingredients that are available in September in Maastricht and its region. This inclusive soup may have up to 20 plant-based ingredients, paying a homage to vegetable kingdom and its variety of colours, tastes and textures. €6,- Location: Van Eyck café
15:00 – Digestive Yoga, Digestive Systems: a workshop by Jorge Menna Barreto and Joelson Buggilla in collaboration with yoga teacher and our resident Dana Venezia. The event will present the artists' on-going research on postures and furniture that can be used to help digestion and activate our metabolism. Location: Project Space Jan van Eyck. Bring your own yoga mat! 
20:00 – Fimscreening FLUX (Nathalia Favaro and Miki Yui)* and Isle of Flowers (Jorge Furtado). Location: Project Space
*Miki Yui will be present to introduce the film and hold a Q&A its screening. 
FRIDAY 6 SEPTEMBER
*Programme free and open to all, no registration needed. Language: English
From 16:30 – Enhanced Digestion Sauna with medicinal herbs and sound. 
17:00 – Opening exhibition Library of Digestion with drinks and canapès. 
19:00 – Mark Post (Mosa Meat) in conversation with Erica Petrillo on In Vitro meat. Location: auditorium (free entrance)
Mark Post (1957) is a Dutch pharmacologist who is Professor of Vascular Physiology at Maastricht University and (until 2010) Professor of Angiogenesis in Tissue Engineering at the Eindhoven University of Technology. On 5 August 2013, he was the first in the world to present a proof of concept for cultured meat. He runs his company Mosa Meat, which seeks to bring cultured meat on the market in 2020. Post estimated that if the traditional meat industry were to be entirely replaced by lab-grown meat, the global cattle population could be reduced from 0.5 billion to about 30,000.
Curator Erica Petrillo conducts in-depth research the possible implications of cultured meat for our understanding of life. She crafts collaborative projects with partners across science and the arts. By casting a wide net on art and design projects that have tackled the theme of in vitro meat, she hopes to contribute to the body of research that considers humans' relationship with their environment (both natural and social).
SATURDAY 7 SEPTEMBER
Registration and booking only, language English
 
12:00 - 14:00 – Workshop by Ju Hyun Lee. Kimchi & Namul, on the border of wild and domestic €10,- max 15 participants. Booking required with this link. 
From 16:30 - 19:00 – Enhanced Digestion Sauna with medicinal herbs and sound. 
16:00 - 18:00 – Wine degustation with Martin Groch. €25,- max 12 participants. Booking required using this link
19:00 – Microbiome Dinner by Marente van der Valk en Ed Begley. €35,- Booking required using this link. 
20:30 – Filmscreening ARAYA, in the garden, if the weather allows. 
LIBRARY OF DIGESTION

On Friday 6 September we launch the Library of Digestion; a modular installation of 'ingredients' ranging from chia seeds, beets, turmeric, kimchi and ginger, texts, videos, yoga-instructions, grass, soils and leaves. These ingredients all improve digestion in different ways and collectively form an understanding of digestion that goes beyond our own (nutritional) consumption, tapping into their material properties, historic relevance, complex roles in digestive processes and their expansive application.
The Library of Digestion in this way unravels how digestion is not merely an anthropocentric circumstance, but a natural and interconnected one. One which entails an urgent balance between accessibility, activation, application, growth, consumption, and understanding. 
Exhibited edible and non-edible ingredients are available for visitors to enjoy and/or take with them. The products are sourced from local farmers and artists and are used in the kitchen and the Van Eyck's Food Lab until 18 October.
Made possible by the support of the City of Maastricht
Photo: Lee Castro