19.08.19 – 19.09.19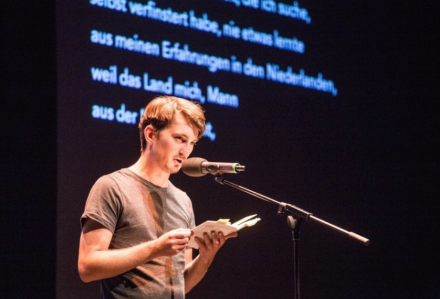 Frank Keizer
This month Frank Keizer is our new poet-in-residence.
Frank Keizer (1987) is a poet, writer and editor based in Brussels and Amsterdam. He is the author of two chapbooks and two volumes of poetry. Onder normale omstandigheden (Under Normal Circumstances) was published by Uitgeverij Polis in 2016 and received a nomination for the Poetry Debut Prize Aan Zee. His second book of poetry Lief slecht ding (Sweet Bad Thing) came out in January 2019. His poems have been translated into English, French, German, Romanian, Portuguese, Turkish and Malayalam and can be found at Lyrikline and Poetry International Web. He performed at festivals all over the world. Together with Maarten van der Graaff he founded the no budget, web-based poetry magazine Samplekanon, whose slogan reads 'Magazines are societies'. He works as a publisher at Perdu in Amsterdam, where he curates a series of experimental poetry in translation, and as an editor for nY, a Flemish literary magazine.
Frank Keizer will introduce his practice during the Wednesday night presentations on 28 August, 17:30.
The poet-in-residence programme is made possible by the Dutch Foundation for Literature