27.01.15 – 29.01.15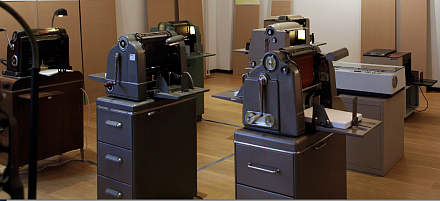 Full colour Vintage Stencil Printing
On 27, 28, 29 January, the Charles Nyples Lab organizes a print workshop focusing on full colour printing with 4 Gestetner 360s stencil machines from the 1950s. Additional 2 Rex Rotary 280s and a scanner will be available for experiment. 
This equipment, coming out of the vast collection of Erwin Blok, will stay at the Van Eyck after the workshop, as an extension to our ever-growing Mimeography possibilities.
This workshop is organized for current Van Eyck participants only. But also during the upcoming Summer Design Academy, that will be organized at the Van Eyck in the last week of August, these vintage stencil machines will be used, next to the RISO A2 and A3. The call for applications for the Summer Design Academy will be launched in spring.