04.09.14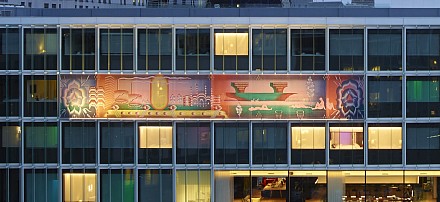 Gijs Frieling, Michael Dean
Gijs Frieling, artist and advisor at the Jan van Eyck Academie, gives a presentation on Thursday 4 September at 5:30 p.m. in the auditorium of the Van Eyck.
Gijs Frieling makes temporary and permanent murals in museums and in public and private space. Colour, ornamentation and reflection on the medium of painting and the presentation mode of contemporary art play a central role in his paintings.
Following this presentation, artist Michael Dean will present his work and ideas, prior to his performance on Friday at 4 p.m. at the Bonnefantenmuseum. Michael Dean's work originates in the research of language and meaning. The interstice, or gap, between producing an object / telling a story and the reception of it by an audience is key to Michael Dean's practice.
Subsequently at around 7 p.m. there's dinner for € 6,- at the Van Eyck café-restaurant. Please reserve your seat before Wednesday 2:00 p.m. via Jeffrey Kuckelkorn: t: 06.51 09 86 19 / e: kuckelko@xs4all.nl 
Welcome!
You are most welcome to join
More info: http://www.gijsfrieling.nl/,  Michael Dean