10.04.19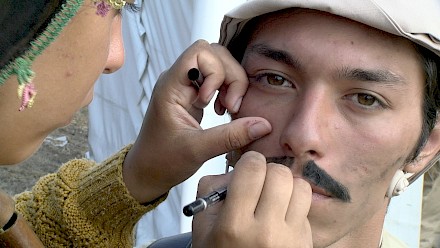 Heroes
On Wednesday 10th of April at 20:00, the film Heroes (2018) by Köken Ergun will be screened at the Jan Van Eyck Auditorium in the framework of the Master Tools exhibition.
In his work Heroes (2018), Köken Ergun uses the camera to distance himself from an ethnographic approach to cinema. The film is based on the central idea that the establishment of nation states relies on the persistence of specific historical narratives. Every year, pilgrimages from Turkey, Australia and New Zealand travel to Gallipoli, or Çanakkale to honour those who lost their lives in the Battle of Gallipoli. they commemorate the similar historical moment, but the different nations narrate a contrasting view and the chronicle is distorted. 
This mechanism differentiates 'us' from 'the others', allowing essential national symbols to fulfil their full potential as political tools. While the art of filmmaking is a western invention, this work is an attempt to challenge the prevailing format of a documentary – i.e. a 'truthful' interpretation of a commemoration event - by dismantling a nationalistic process. This 'tourism of martyrdom', as Ergun calls it, negates the single reality of an ideology as proposed by traditional filmmakers. 
After the film screening, Riksa Afiaty, curator of the exhibition Master Tools, will have a public conversation with Van Eyck participant Gökcan Demirkazık about the film and the practice of Köken Ergun.
All most welcome to join! 
 
ABOUT
GÖKCAN DEMIRKAZIK is an itinerant curator, writer, and editor formerly based in Istanbul and Beirut. Following his graduation from Harvard College with a degree in History of Art and Architecture, Gökcan joined SALT's research and program leads in their endeavor to conceptualize and architecturally re-configure Alt Art Space—a new independent art space in a former beer factory in Istanbul. In 2017 through July 2018, Gökcan was a Fellow at Ashkal Alwan's Home Workspace Program and his critical writing has previously appeared in ArtAsiaPacific, Artforum, Art Review, Art Unlimited, di'van | A Journal of Accounts, Even, Frieze, and m-est.org.
KÖKEN ERGUN (Istanbul, 1976) is an Istanbul based artist working in film and installation which often deal with communities that are not known to a greater public and the importance of ritual in such groups. Ergun's preoccupations are based on forms of contemporary rituals and celebrations, religious or secular, through events such as national holidays, beauty contests, world fairs and olympics. His recent works focused on nation-building model. He is a member of the After the Archive? initiative focuses on the notion and problematics of archives not only in Turkey but also in a global context.