02.05.18 – 04.05.18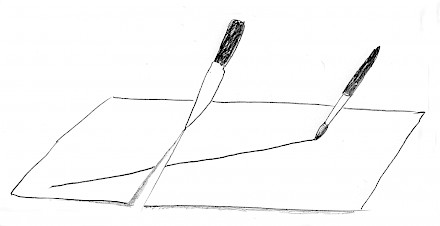 Itching Powder or "How much harmony?"
Artists are generally considered to have some of the most vigorously adaptable and voraciously incorporative practices of all the disciplines, which is why they are often invited as collaborators to a variety of contexts, environments, fields and communities: institutional, social, academic or political. The processes and practicalities involved during these collaborations are often hidden, overshadowed by a focus on the end result. What is the added value for practitioners of engaging their disciplines in open and uncertain collaborations? What is the potential contained within (mis)understanding and transference?
This event seeks to uncover some of the more immediate and contingent elements of trans-disciplinary practice and research – the rewards, difficulties and potential opportunities that lie at the intersections between fields. The contributions to this event combine historical, philosophical, methodological and formal perspectives alongside the direct experience of collaboration. Across, beyond or through: trans indicates a region that can be navigated only by constructing a connection between pre-existent fields. The slippery nature of this bridge, tunnel, or condition between pre-existent identities consists of multiple, contingent and perhaps contradictory exchanges – generosity, irritation, reflection, entanglement, symbiosis. The day and a half of talks aims to get somewhere closer to understanding the dynamic relations of transdisciplinary work.
Itching Powder or "How much harmony?" Is a series of talks and discussions over 1.5 days, devised by artists Joey Bryniarska and Martin Westwood in response to a three-year NEARCH Fellowship awarded by the Jan van Eyck Academie in 2015, which sought to locate new interconnections between the disciplines of art and archaeology. Bringing together artists, archaeologists, cultural theorists and social scientists with a committed interest in the transdisciplinary dynamic, the event will explore the wider frameworks; artistic, institutional, social and political - in which collaborative practices are conceived and grow.
If you wish to join the talks please register: register@janvaneyck.nl and let us know if you will be joining the complete programme or part of it.
WEDNESDAY 2 MAY
17.30 – 19.00:
'Another dd / U / mm / yyyy' by Joey Bryniarska and Martin Westwood
Presentation and book launch
THURSDAY 3 MAY
10:00 – 18:00:
Talks and discussions led by contributors
10:00 
Joey Bryniarska (Early Career Researcher and Lecturer, Central Saint Martins, London and NEARCH fellow):
Introduction   
10:15
Martin Westwood (Resident in Critical Practice, Royal Academy Schools, London. Research Fellow, Central Saint Martins, London):
Ecumenicism and the transdisciplinary shadow
10:45
Anke Hennig (Research Fellow at Ruhr University Bochum I; Associate Lecturer at Central Saint Martins, London):
Phenomenology of Collective Thought 
11:15
Lex ter Braak (Director Van Eyck, partner in the NEARCH EU-project):
Raising the Venetian Blinds. Art, blindness and transparency    
11:45
Coffee / tea break
12:00
Huib Haye van der Werf (Head of Artistic Programme, Van Eyck):
A cloud of Pornography          
12:30
Mick Finch (Reader and BA Fine Art course leader, Central Saint Martins, London): 
Aby Warburg – topology and iconology  
13:00
Lunch
14:00 
Tour of the Van Eyck for contributors to the event
14:30
Stephen Milner (Art historian and Director of British School at Rome):
The generative sin of curiosity: disciplines, practices and the process of making 

15:00
Giuseppe Licari (artist, NEARCH fellow)
Learning from archaeologists, geologists and forest rangers: Wasn't Art always transdisciplinary?
15:30
Louisa Minkin (MA Fine Art course leader, Central Saint Martins, London)   
Buffer overflow: pest species, multi-stable objects, neophyte familiars  

16:00
Coffee / tea break
16:30
Klaas van Gorkum and Iratxe Jaio (artists, NEARCH fellows):
Artistic, legal and scientific approaches to the question of proof  
17:00
Nina Wakeford  (Reader in Sociology, Goldsmiths College, Royal College, London):
Inventive Methods as Boundary Objects for Trans-disciplinary endeavours    
18:00 Canapes and drinks                       
FRIDAY 4 MAY
10.15:
Chaired panel and audience discussions
11:15
Coffee / tea break
11:30
Chaired panel and audience discussions
12:45
Lunch 
Organised by Joey Bryniarska and Martin Westwood