25.10.18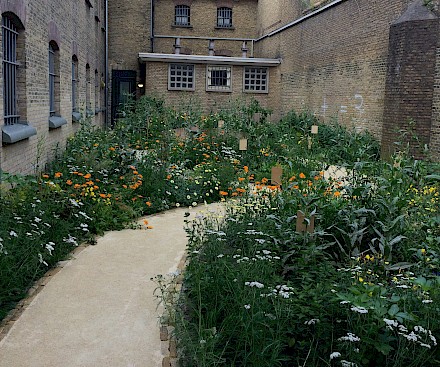 Jac. P. Thijsse Lab lecture at Farm of the World
Yasmine Ostendorf, the head of the the Jac. P. Thijsse Lab for Nature Research, has been invited to do the last last lecture within the series Food for Thought that Farm of the World is organising this year in the framework of Leeuwarden Cultural Capital. The lecture t is called Artists: The storytellers of the 21st century and zooms in on visual art at the intersection with ecology. As a society we are starting to realize that some of our major environmental challenges are catalyzed by our fossil-fuel reliant lifestyles and consumer behaviors. The manifestation might be loss of biodiversity, the collapse of ecosystems, acidification of oceans, extinction of species and climate change but at the heart of the problem lays human greed, the illusion of separation, apathy and selfishness. We are in need of a re-newed relationship to our natural environment; a cultural and spiritual transformation. This is what art can do: it can speak to people in a heartfelt, complex, activist, human, non-commercial, engaging, critical, and/or fun(ny) way. More and more artists recognise this power and responsibility and see the agency they have as storytellers of the 21st century. After all, facts and figures have no power against a story, when we hear a compelling story- we listen.
For the last 7 years, curator Yasmine Ostendorf has been doing research across Asia and Europe on artists proposing alternative ways of living and working – ways that ultimately shape more balanced, sustainable and resilient societies. This research lay the foundation for the Green Art Lab Alliance, a knowledge alliance of 35 cultural organisations that explore, question, and address our social and environmental responsibility through their artistic practice. In her talk at Farm of the World, she will highlight transformative art-practices from Korea to Georgia, demonstrating the importance of storytelling as a political tool and its capacity to re-connect people to the land and the many resources it holds.

Yasmine invited Rain Wu to join her, a Taiwanese artist currently in residence at the Van Eyck and the inaugural artist to kick-off the Van Eyck Food Lab, a residency that enables artists to research in depth their relation to food in order  to actively explore what food means in our day and age, and to consider the relation of food to ecological and social issues. Rain will speak about her approach as an artist and working with natural materials including mycelium, plants and bread-tiles. 
Artists: The storytellers of the 21st century takes place Thursday 25 October from 3pm to 5pm. Location: De Kreake in Húns. An assistant of Studio Claudy Jongstra and Farm of the World will give an introduction. We will close the afternoon with some drinks and bites. A ticket costs € 20,- per person. You can book your ticket here, through the official ticketing website of LF2018.