10.12.14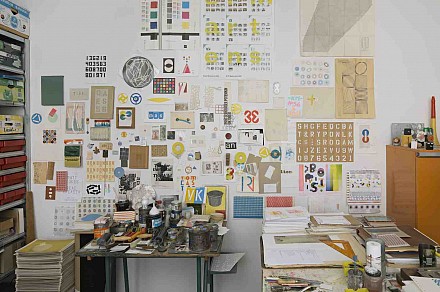 Karel Martens
On Wednesday 10 December graphic designer and co-founder of Werkplaats Typografie Karel Martens will come by for studio visits and a presentation at 17:30 uur at the Van Eyck auditorium.
All welcome!
about Karel Martens:  
Karel Martens (born 1939) finished as a student at the Arnhem School of Art (Holland) in 1961. Since then he has worked as a freelance graphic designer, specializing in typography. Alongside this, he has always made free (non-commissioned) graphic and three-dimensional work. Among his clients have been the publishers Van Loghum Slaterus (Arnhem) in the 1960s, and the SUN (Socialistiese Uitgeverij Nijmegen) in the years 1975–81. As well as designing books and other printed items, he has designed stamps and telephone cards (for the Dutch PTT). He has also designed signs and typographic façades for a number of buildings. In 1999 he made the design for the façade of the printing company Veenman in Ede in commission for Neutelings Riedijk Ar- chitecten in collaboration with the writer K. Schippers. And in 2005 he designed the glass façades of the new part of the building for the Philharmonie in Haarlem. This design was based on a music score by Louis Andriessen.
Prizes: In 1993 KM was awarded the H.N. Werkman Prize for the design of the architectural magazine Oase. In 1996 he received the Dr A.H. Heineken Prize for Art; as part of this prize, a monograph on his work was published: Karel Martens: Printed Matter. Desined in in cooperation with Jaap van Triest. His work has been nominated three times at the Design Prize Rotterdam: 1995, for the design of the standard series of telephone chip- cards for PTT Telecom (this received an honorary commendation); 1997, for the book Karel Martens: Printed Matter; 1999, for the design of the façade of the Veenman printing works at Ede. In 1998 at the Leipzig Book Fair, Karel Martens: Printed Matter was awarded the gold medal, as the best-designed book "in the whole world". In 202 he got the Gerrit Noordzijprijs. Over the years his books have featured regularly in the annual Best- Designed Dutch Books competition.
As teacher KM has taught graphic design since 1977. His first appointment was at the Arnhem School of Art (until 1994). He was then attached to the Jan van Eyck Academie in Maastricht (1994–99). From 1997 he has been a visiting lecturer in the graphic design department at the School of Art, Yale University. In 1998 he was the co-founder of the Typography Workshop (WT) for postgraduate education within the ArtEZ, Institute for the Arts, Arnhem. From 2001 onward he shares the artistic super- vision together with Armand Mevis and Paul Elliman. In 2006 the WT was accredited as a Master Programme. In 2014 he left the WT.