06.09.19 – 18.10.19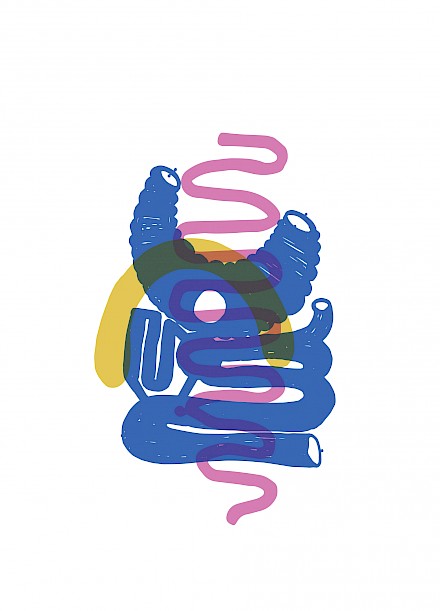 Library of Digestion
Your skin covers about twenty square feet. Your lungs, if you were to flatten out all the tiny air pockets, could cover hundreds of square feet. And your intestines? Counting all the little folds, some scientists estimate that your gut would blanket thousands of square feet, vastly more expansive than your skin and lungs combined. What you eat may very well be your primary interface with the outside world.  -Dr. Michael Greger
On Friday, 6 September, at 17:00 we launched the Library of Digestion - a modular installation of ingredients that lead to an improved digestion and goes beyond the idea of food art having to revolve around the aesthetics of food. With components such as chia seeds, beets, turmeric, kimchi, ginger, texts, videos, yoga-instructions, grass, soils, and leaves, the exhibition aims to shape our understanding of digestion by tapping into the said ingredients' material properties, historic relevance, complex roles in digestive processes and their expansive application. The Library of Digestion provides its audience with food for thought and unravels how digestion is not merely an anthropocentric circumstance, but a natural and interconnected one, entailing a balance between accessibility, activation, application, growth, and consumption. 
The edible and non-edible ingredients are available for visitors to enjoy and/or take with them. The products are sourced from local farmers and are used in the academy's Food Lab until 18 October.
The exhibition includes works by Jorge Menna Barreto and Joélson Buggilla, Asako Iwama, Marente van der Valk, Ed Begley and Ju Hyun Lee. Produce from Wim Storken. 
Library of Digestion is part of the Food Art Film Festival – the annual, cross-disciplinary research-festival that builds on an international as well as local network of farmers, beekeepers, chefs and scientists, alongside artists, designers and architects to demonstrate how creativity can help shape more sustainable (food)futures. 
Image: Joélson Buggilla & Jorge Menna Barreto
Quote: http://cargocollective.com/jorgemennabarreto/Residency-janvaneyckacademie