10.03.16 – 12.03.16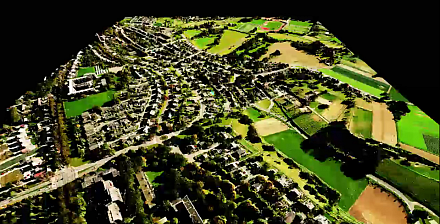 Linea Recta - Maurer United Architects
Maurer United Architects presents the animation  LINEA RECTA at their own studio at in the Van Eyck during the Open Studios. This animation is a virtual fly-over film, that shows us the typical landscape qualities of South-Limburg. The animation was generated with public data available on the internet, translated into a single 3D model with the dimensions of 27 km length and 1 km width (LINEA RECTA). The file consists of 7 AHN2 32 bit height maps combined into one displacement map, that counts 55.000 x 2.000 pixels with a total of 10 million height points. The virtual drone camera travels with a velocity of 450 km/h at an altitude of 325 meter. According to the WGS84 the latitude of the LINEA RECTA is 5 degrees, 42 minutes and 7.131 seconds.
The Open Studios are open to the public on Friday 11 March from 17:00-19:00 - Fesitive opening
and on Saturday 12 March from 10:00 - 17:00.