06.12.19 – 13.12.19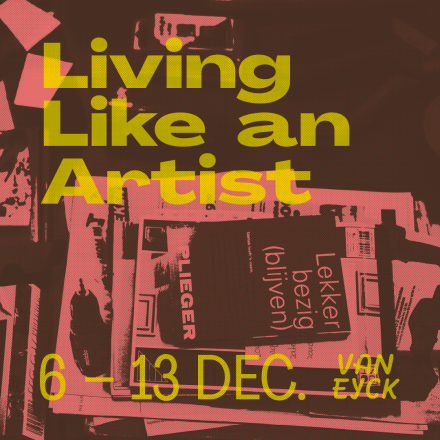 Living Like an Artist
From 6 December – 13 December the Jan van Eyck project agency Mirror will exhibit and reflect on the outcomes of Living Like an Artist – an intensive research venture that sheds light on older artists' living arrangements, carried out collaboratively with Maastricht University and RWTH Aachen. 
Just like the project itself, the week-long exhibition titled Living Like an Artist will display scale models of artists' ideal households, thus presenting strategies for continuous and innovative talent development, fruitful aging, creative dwelling and everlasting vitality. By analyzing the patterns amongst elderly artists' lifestyles and the way these correspond to their habitats and vice versa, Living Like an Artist emphasizes that one cannot retire from what one really is. The project's intention is to point out that, through flexibility and perseverance, mature artists, designers, architects, and writers can be more than mentors to the succeeding generations.
As part of the exhibition, the emerging artist Tineke Kambier will present photographs, depicting the living-working settings of aging artists.
The vernissage of the exhibition will be preceded by presentations and an open discussion during which Prof. Aagje Swinnen and Prof. Anne-Julchen Bernhardt will showcase the analysis they carried out together with students from the Research Master CAST (Maastricht University) and the Master Architecture (RWTH Aachen). A screening of a short documentary made by Richard Dols will offer an insight into various environments inhabited by artists who are in the later stages of their evolvement. 
Together with artists, students and researchers, we invite you to take part in a multilingual discussion to further develop the findings and apply them to a number of social categories. Together with you, we wish to question implications of competitiveness in the art world, and to contextualize the project within a fast-paced contemporary framework.
PROGRAMME
10:00 Welcome
10:15 Presentation by Prof. Aagje Swinnen
10:50 Documentary screening by Richard Dols
11:05 Presentation by Prof. Anne-Julchen Bernhardt
11:35 Open discussion / Opening of the exhibition Living Like an Artist
12:15 Lunch

EXHIBITION
6 - 13 December
Monday - Friday, 9:00 - 17:00
Living Like an Artist is a continuation of Like an Artist – a project initiated in 2016. More information can be found here.