11.07.17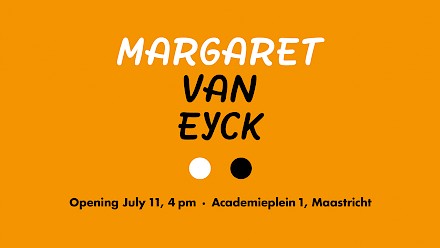 MARGARET VAN EYCK
Opening Margaret van Eyck
We are happy to invite you to the opening of Margaret van Eyck—Multiform Institute for Fine Art, Design and Reflection on Tuesday 11 July. Margaret van Eyck is an ongoing intervention by participants of the Van Eyck, investigating the ways that fiction and reality inform each other. Join us for a programme of performances, a tour of the academy and its Labs, and drinks.
Margaret is an intervention.
Margaret is an experiment.
Margaret is an investigation.
Margaret is an idea.
Margaret is a vessel.
Margaret is a mirror.
Margaret is a question.
Margaret is a demand.
Margaret is a gesture.
Margaret is a tool.
Margaret is a parallel world.
OPENING
Tuesday, 11 July 2017, 4—7 pm
MARGARET VAN EYCK comprises of the following components: The Margaret van Eyck Academie is a multidisciplinary institute that furthers experiment, research, study, production and exchange (formerly known as Jan van Eyck Academie). The Caterina van Hemessen Academie was established to connect MARGARET VAN EYCK to the educational institutions in its vicinity (formerly known as Hubert van Eyck Academie). The Anne Pétronille Nypels Lab offers all expertise necessary for making (artists') publications, specializing in Riso, relief, intaglio and silk-screen printing (formerly known as the Charles Nypels Lab). The Luzia Hartsuyker-Curjel Lab incorporates the wood and metal workshops (formerly known as the Heimo Lab). The Wilhelmina Minis-van de Geijn Lab is MARGARET VAN EYCK'S Lab for Nature Research (formerly known as the Jac. P. Thijsse Lab.) The Thérèse Cornips Lab is the lab for the mind; this is where making acquires its reflective meaning (formerly known as the Pierre Kemp Lab). The Elsa Stansfield Lab is a laboratory of the new media, in particular sound, film, video and photography (formerly known as the Werner Mantz Lab).
More information on the women behind the Lab names can be found here.
www.margaretvaneyck.nl
info@margaretvaneyck.nl
facebook.com/margaretvaneyckacademie
#margaretvaneyckacademie #mve #parallelworld