20.05.15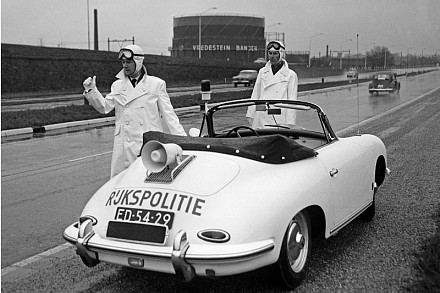 Marinus Boezem - The Porsche Academie
Artists and initiator of the Porsche Academie Marinus Boezem himself will be in Maastricht on the 20th of May for art consultations for participants of the Jan van Eyck Academie.
On Saturday 2 May Van Eyck director Lex ter Braak was on the road as a professor of the Porsche Academie. Together with Hans van Houwelingen, Aernout Mik, Liesbeth Bik, Irene Fortuyn, he will execute the project of Marinus Boezem.
Frustrated with the state of art education in 1976 Marinus Boezem, one of the founders of the conceptual art movement in the Netherlands, imagined an alternative: the Porsche Academie, an art school without a director, without a building, comprising seven 'professors' who would be available for students on call. Each of the professors would be provided with a high-speed Porsche enabling them to be with a student for a consultation anywhere in the country within 24 hours. The Porsche Academie was a reference to the Rijkspolitie (State Police), which at that time had a fleet of Porsches available to provide swift assistance to people in need.
In the framework of the large scale manifestation Boezem & Co. De stad als podium the SBKM/De Vleeshal in the city of Middelburg put the plan into action and made sure the Porsche Academie is on the road during six weeks. Specially for the ocassion six professors have been named. Students and other fledgling artists from all over the country can contact De Vleeshal to register for a consultation, starting from 24 hours ahead of the day the professor is scheduled to drive around the country. They do not have to specify the nature of their question. The idea is that they can present their question or problem to the professor, one on one, unhindered by public or social interference.
18.04 Aernout Mik | 25.04 Liesbeth Bik | 02.05 Lex ter Braak | 09.05 Irene Fortuyn | 16.05 Marinus Boezem | 20.05 Marinus Boezem, Jan van Eyck Academie | 23.05 Hans van Houwelingen
If you are interested in talking about your work with one of the professors of the Porsche Academie, please email jesse@vleeshal.nl within 24 hours of the specified date. 
More info: Boezem & Co