24.04.15 – 07.06.15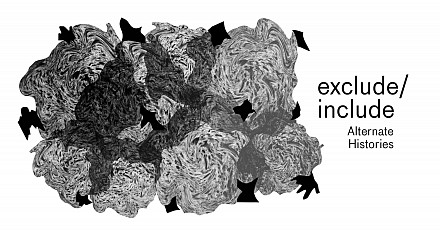 exclude / include. Alternate Histories
Van Eyck participant Vincent van Velsen is the curator of exclude / include. Alternate Histories at Castrum Peregrini, Amsterdam.
Van Eyck participant Kristina Benjocki is one of the contributing artists.
exclude/include. Alternate Histories takes a critical stance towards history, in which decisions about the inclusion and exclusion of narratives, ideas, individuals and groups are emphasised and brought into contact with alternative views and commonplace ideas - taking into account that no (hi)story emphasises the true, correct or complete version.
Contributing artists: Kristina Benjocki, Marcel van den Berg, Anna Dasovic, Jeremiah Day, Amie Dicke, Claudia Doms & Eva Pel, Seán Hannan & Steven van Grinsven, Remy Jungerman, Miguel Peres dos Santos, Wendelien van Oldenborgh, OMA/AMO, Remco Torenbosch. Curated by Vincent van Velsen
Castrum Peregrini
Herengracht 401
1017  BP Amsterdam
Open thu-sun 14:00 - 18:00
More info:
http://castrumperegrini.org/upcoming-events-2