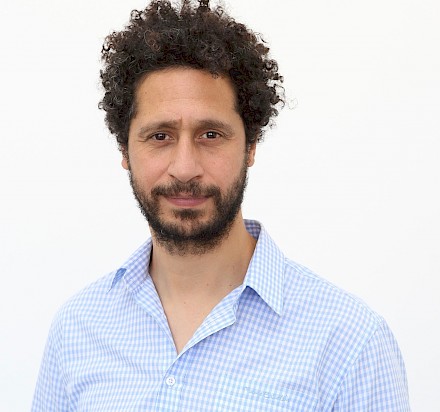 New Director
The Board of Supervisors of the Van Eyck is pleased to announce the appointment of Hicham Khalidi as the new Director of the Van Eyck, Multiform Institute for Fine Art, Design and Reflection.
Hicham Khalidi is currently associate curator of Lafayette Anticipations in Paris. He is also the main curator of the first Rotterdam Triennial (2020). Previously he was head of exhibitions at Stuk, Leuven, and the general and artistic director of TAG in The Hague. Khalidi worked as a curator for the group exhibition ACT II of the Sharjah Biennial in Beirut (2017) and for the Biennale of Sydney (2016), and as chief curator for the Marrakech Biennale (2014).
The Board of Supervisors has total confidence that Hicham Khalidi will uphold the Van Eyck's international position as a leading institute for talent development in the arts. His resolute advocacy of interdisciplinarity, interaction and collaboration, together with his enterprising spirit, tally with the outlook of the Van Eyck and will take it to new heights.
"I look forward," Hicham Khalidi states, "to continuing with the strong team of the Van Eyck on the present path towards an open, diverse and internationally appealing post-academic institute."
Hicham Khalidi will take up his appointment on 1 October. He succeeds Lex ter Braak, who has taken his leave of the Van Eyck on 28 June.
The selection committee, consisting of representatives of the Board of Supervisors and of the staff and advisors of the Van Eyck, was unanimous in nominating Khalidi as the new Director.
 
PROFILE HICHAM KHALIDI
Hicham Khalidi (MA, 1972) has been an associate curator of Lafayette Anticipations (Fondation d'entreprise Galeries Lafayette) in Paris since 2015. In this capacity, he is involved in commissioning work in the disciplines of fine art, design and fashion. He is the main curator of the first Rotterdam Triennial, which is to take place in 2020. In the period 2013-2015, he was responsible for programming exhibitions and the Artefact Festival at the STUK House for Dance, Image and Sound in Leuven. From 2003 to 2011 he was the artistic and general director of TAG, institute for contemporary art and music in The Hague. In 1997, he launched the fashion concept store Concrete. Khalidi was the curator of the ACT II group exhibition in the Beirut Sharjah Biennial in 2017, served as a cultural attaché to the Biennale of Sydney in 2016, and was chief curator of the Marrakech Biennale in 2014. Khalidi sits on various boards and competition juries, and serves as an advisor to Dutch organizations including the Council for Culture, the Creative Industry Fund and the Prince Claus Fund.
Hicham Khalidi lives in Brussels.
Photo: Werner Mantz Lab