07.12.18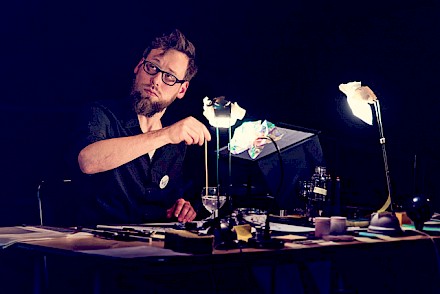 Nikolaus Gansterer
Artist and Van Eyck alumnus Nikolaus Gansterer will be in the Jan van Eyck Academie for studiovisits. He will give a public talk about his work on Friday 7 December at 17:30. All welcome to join.
 
How to do things with lines and what do lines do with you? Drawing between the lines of connection
Nikolaus Gansterer is an artist, performer and researcher deeply interested in the links between drawing, thinking and action. His practice is grounded in a trans-medial approach, underpinned by conceptual discourse in the context of performative visualisation and cartographic representations. In form of installations and performances he traces the translatability of phenomena of perception into an artistic environment. In his lecture Gansterer will give insight in recent research and exhibition projects and his understanding of the notion of expanded drawing.
Gansterer understands the processes of thinking and drawing as analogous. He is thus concerned with the fundamental question of how to translate processes of thought, and explores how the act of drawing can become a tool of communication. To approach the materiality of perception Gansterer applies a unique performative grammar, in which the artist's flow of observations in relation to his environment manifest as captivating live drawings, diagrams and arrangements. He questions how these situative constructions of meaning could be expanded towards a radical autopoiesis or even sympoiesis: where a line of thought becomes a line on paper, turns into a line in space, and then again a line articulated with the whole body or transforms into an object. In these trans-medial works, he focuses on mapping ephemeral and emergent processes unfolding their immanent structures of interconnectedness, questioning the imaginary threshold between nature and culture, art and philosophy.
Nikolaus Gansterer is internationally active in performances, exhibitions and lecturing. Gansterer studied anthropology at University of Vienna and Transmedia Art at the University of Applied Arts Vienna, Austria, he completed his cross-disciplinary studies at the Jan van Eyck Academie in Maastricht, the Netherlands. He is co-founder of the Institute for Trans acoustic Research. Currently he is Guest Professor at the University of Applied Arts in Vienna. Gansterer's fascination with the complex character of diagrammatic figures led to two books: "Drawing a Hypothesis - Figures of Thought", (Vienna/New York: Springer, 2011) on the ontology of shapes of visualisations and the development of the diagrammatic perspective and "Choreo–graphic Figures: Deviations from the Line", (Berlin/Boston: De Gruyter, 2017) on the development of experimental notation systems and embodied diagrammatics, by staging an inter-disciplinary encounter between the lines of choreography, drawing and writing.
www.gansterer.org
Friday 7 December
17:30
Auditorium