27.05.19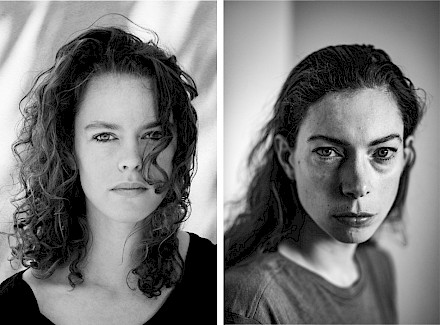 Nina Polak ontmoet Hanna Bervoets
On the 27th of May, 2 of the top writers of their generation, Nina Polak and Hanna Bervoets, will have a talk in the Van Eyck about (the similarities in) their work, and their new books.
The talk will be in Dutch.
Van Eyck writer-in-residence Nina Polak gaat in gesprek met schrijver Hanna Bervoets op maandag 27 mei om 20.00 uur. De beide winnaars van de BNG Bank Literatuurprijs – de oeuvreprijs voor schrijvers onder de veertig – spreken over de raakvlakken in hun werkwijzes en romans, zoals de thematiek van het fysiek en psychisch lijden. In de week van het gesprek verschijnt Welkom in het rijk der zieken, het nieuwe boek van Hanna Bervoets bij Uitgeverij Pluim. Nina Polak werkte tijdens haar verblijf op de academie aan een essay voor de door de Van Eyck uitgegeven reeks Schemerschijn, over de schaduwkanten van ons geestelijk bestaan.
Het gesprek zal worden geleid door schrijver, dichter en Van Eyck adviseur Erik Lindner.
De boekverkoop wordt verzorgd door boekhandel De Tribune.
Allen van harte welkom!
Nina Polak (1986) is redacteur bij De Correspondent, schrijft voor De Gids en voor het theater. Haar debuutroman We zullen niet te pletter slaan kwam uit in 2014. Haar tweede roman Gebrek is een groot woord verscheen in 2017. In 2018 won Polak de BNG Bank Literatuurprijs.
Hanna Bervoets (1984) publiceerde zes romans, verschillende scenario's, toneelstukken, korte verhalen en essays. Zij debuteerde in 2009 met Of hoe waarom, gevolgd door Lieve Céline (2011) Alles wat er was (2012), Efter (2014), Ivanov (2016) en Fuzzie (2017). Haar werk werd verschillende malen genomineerd voor de Gouden Boekenuil, de AKO Literatuurprijs en de Libris Literatuurprijs. In 2017 won Bervoets naast de BNG Bank Literatuurprijs eveneens de Frans Kellendonk-prijs voor haar gehele oeuvre.
 Erik Lindner schreef meerdere dichtbundels zoals Terrein (2010), Acedia (2014) en Zog (2018). In 2013 verscheen zijn roman Naar Whitebridge.
Het writer-in-residence programma van de Jan van Eyck Academie is een samenwerking met het Nederlands Letterfonds en kadert binnen het programma Wanderlust, het internationale talentontwikkelingsprogramma van het fonds.
Maandag 27 mei 2019
20.00 uur
Auditorium​
Gratis toegang
Foto Nina Polak: Sacha de Boer
Foto Hanna Bervoets: Prins de Vos